It was announced last week that Ronda Rousey will headline UFC 157 against Liz Carmouche while former PRIDE champ and living legend Dan Henderson will meet former UFC light heavyweight Lyoto Machida in the co-main event of the evening. After the announcement fans on the internet went crazy with a woman's fight headlining a card over a legend who is beloved by fans around the world.
Hendo took to Twitter to try to squash the bickering amongst keyboard warriors everywhere.
I am perfectly fine as the co-main. I will get to relax and enjoy the women go at it. RT (cont) tl.gd/ke34ao

— Dan Henderson (@danhendo) December 21, 2012
So there you go if Henderson doesn't mind playing second fiddle to the ladies then hopefully the backlash will subside against Rousey and Carmouche.
Henderson is a win away from a title shot against his buddy Chael Sonnen or Jon Jones. Whoever comes out on top will face Hendo for the belt later this year should he get by Machida first.
Nate Diaz will get a title shot after his second round submission win over Jim Miller in Miller's backyard. Frankie Edgar will take on Ben Henderson for the lightweight title and Diaz will get the winner according to Dana White. Anthony Pettis wants a title shot and even asked for Diaz in the meantime but White gave Diaz the nod over the former WEC champ.
In the first edition of the new MMA Magazine, YourMMA Michael Bisping says that he would beat Chael Sonnen in a five round fight and that he pics Sonnen to beat Anderson Silva this summer to set up a rematch between the two for the title.
"I think Chael will out-wrestle Anderson and beat him this time, and then I'll get the rematch with Chael considering how close our fight was."

"If I had Chael over five rounds, I'd definitely beat him. In that last fight, I'd have stopped him in the fourth for sure. He was spent after trying to submit me in that third round. Towards the end of that round I was raining down shots on him."
Bisping definitely gave Sonnen a run for his money earlier this year and if the two men win their next two fights we could see a rematch later this year for the UFC belt.
UFC lightweight champ Jon Jones and Rashad Evans went at it on UFC Insider when the two men were talking about training at Greg Jackson's gym. Jones began talking about the history of the gym while Evans jumped in and said he was the one who made the history before Jones came along.
"The history? I made that history! What are you talking about? I'm the one who helped make that history! You're the one who came into it. You came into it! Don't talk about the history, when you have no roots in the history! Don't talk about — I helped make Greg Jackson! I helped make him the reason why you even wanted to come there and train. So, don't talk to me about the history of the team, bro! Don't talk to me about the history of the program because, motherf*cker, I made that program!"
It's going to be a grudge match next weekend in Atlanta.
With steroids, TRT, and other shenanigans in MMA Dana White has a hard time promoting fights. After Alistair Overeem got popped for excessive testosterone levels he put the main event of UFC 146 in jeopardy. But with almost 400 guys on the UFC roster White insists he is a promoter and not a babysitter.
In a recent interview with Swedish MMA journalist Marcus Kowal White reiterated his stance;
"I have 375 guys under contract. I have this huge business to run. I told you what the next two years of my life were going to be like and I'm supposed to be babysitting these guys? They're grown (expletive) men."

White makes a very good point his job is to pay the fighters to show up and fight. He has no say over what they do or don't do when they aren't in the venue before the fight. But as the sport continues to grow the UFC, White, and his fighters will be more and more scrutinized.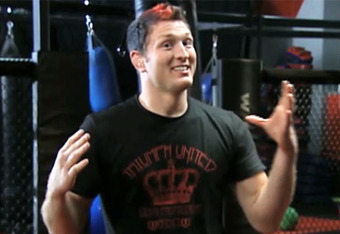 This weekend Chael Sonnen poked fun at Alistair Overeem for getting popped for high testosterone levels by the Nevada Athletic Commission. It is a little ironic since Sonnen himself was popped for the same thing two years ago in California after his fight with Anderson Silva.
According to Jason Miller ( @mayhemmiller )
Chael berating someone on their test level is like me making fun of someone's bad haircut.
Not be out done the UFC #1 middleweight contender blasted Miller and his career in return;
(@sonnench)
MayHem: Due to time constraints I am currently confining my Twitter wars to active, relevant, fighters ONLY. Buy a T-shirt on your way out.
Miller will face CB Dollaway at UFC 146 and desperately needs a win to save his spot in the UFC. Sonnen is set to face Anderson Silva for the belt at UFC 147 in Brazil.
The Ultimate Fighter Live episode 5 – "That Miserable Feeling" – aired Friday evening and saw Team Faber nab another win to even the score at two all, as Spokane native Michael Chiesa defeated Tucson's Jeremy Larsen by unanimous decision.
Friday marked the first fight for Chiesa following the tragic loss of his father earlier this season. His quest of honoring his father's dream and becoming the next Ultimate Fighter continues as he movesinto the quarterfinals along with previous winners: James Vick, Justin Lawrence and Al Iaquinta.
With the win, Team Faber selected the next fight, which will pit JoeProctor against Chris Tickle on Episode 6, Friday, April 13 at 10 p.m. ET / PT on FX.
Here's what everyone had to say about the evening's live fight:
UFC President Dana White:
Read the rest of this entry »
JTMoney has signed a deal with Cage Warriors according to a recent press release. The troubled Ultimate Fighter star will look to get his career back on track in the UK.
Jesse Taylor has put pen to paper on a three-fight contract with Cage Warriors and his term with the organisation will start with a bang next month.

Taylor, a member of the renowned Team Quest camp, will challenge for the CWFC welterweight title against current champion Gael Grimaud in the main event at CWFC Fight Night 6 in Bahrain on May 3.

The bout will provide Grimaud with his first opportunity to defend the belt he captured courtesy of a second-round TKO victory over Arni Isaksson at Fight Night 2 in Jordan last September.

Taylor, who has fought on several top shows such as the UFC, Strikeforce and Dream, came to prominence as a cast member on Season 7 of The Ultimate Fighter in 2008.

The 29-year-old has recorded notable wins over the likes of Jorge Ortiz, Matt Major (both ex-Bellator), Rico Altamirano (ex-Strikeforce), Drew Fickett, Jason Day, Denis Kang (all ex-UFC), current UFC middleweight Chris Camozzi and top UK star Tom Watson.

"I'm very pleased to be signed with Cage Warriors," said Taylor. "This is what I do; travel the world, perfecting my craft and collecting belts. It's all part of my journey to the top and I couldn't have asked for a better show."
The Ultimate Fighting Championship® and Harley-Davidson® ride in to the BankAtlantic Center in Fort Lauderdale, Fla. on Friday, June 8 with an outstanding UFC® event headlined by flyweight rivals Demetrious "Mighty Mouse" Johnson and Ian McCall. The winner of the fight will go on to fight Joseph Benavidez for the first-ever UFC 125-pound title later in the year.
UFC's Harley-Davidson Hometown Throwdown event will air live on FX at 9 p.m. ET/6 p.m. PT.
Southern Florida was selected for this event as a part of the UFC, Harley-Davidson "Hometown Throwdown" program. The program allowed fans to visit the UFC, Harley-Davidson Hometown Throwdown website and submit a city for consideration for a future event.
In addition to helping choose the city, fans will also play a key role in determining a main card bout on the card. UFC fans can go toufc.com/hometownthrowdown to vote for which bout will make it onto the main card and be the first fight shown on the FX telecast.
Fans can choose between the following three bouts: Scott Jorgensen vs. Eddie Wineland in bantamweight action; Carlos Eduardo Rocha vs. Mike Pierce in a welterweight bout; Lance Benoist vs. Seth Baczynski at 170-pounds.
Fans can also enter to win the UFC experience of a lifetime at the Harley-Davidson Hometown Throwdown event and their own custom Harley® motorcycle through a sweepstakes that runs through April 28, 2012. See full sweepstakes information and rules at ufc.com/hometownthrowdown.
The main event of Johnson versus McCall comes in high-demand. The two first squared off in an action-packed bout last month in Australia, with Johnson initially being declared the winner. However, it was revealed shortly thereafter that the judges' scorecards were calculated incorrectly by the local athletic commission and the actual decision was a draw. Thus, Johnson and McCall will extend their rivalry on June 8 in a three-round rematch. If the fight is a draw after three rounds, the competitors will go to a sudden victory round to determine which man will earn the right to compete for the UFC world title.
"I'm excited to bring the UFC back to Florida!" UFC President Dana White said. "The first fight between Johnson and McCall was incredible, and on June 8, they will finally finish the fight to determine who is going to fight for the first-ever flyweight title."
Read the rest of this entry »
Urijah Faber's team froze up last week on the Ultimate Fighter when Dominick Cruz tried to let the 'Alpha Male' pick his best guy to fight Justin Lawrence. No one from Team Faber stepped up and you could hear crickets chirping as no one wanted to fight Cruz's best guy. Cruz parodied the moment with Lloyd Irvin, Mike Easton, and other members from his team and put it on Youtube for the entire world to see.