Chael Sonnen had his chance to shock the world tonight in Newark New Jersey at UFC 159. After accepting a fight with Jon Jones on just 8 days notice after Dan Henerson abruptly pulled out of the fight with Jones at UFC 151. The event was canceled and Jones looks like a heel for not taking the fight against the brash middleweight. But Dana White saw an opportunity and made the two men coaches on TUF 17. Jones and Sonnen coached against each other with the brash Oregon native coming out on top. But tonight at the Prudential Center Sonnen had to back up all the talking he had done for the past 6 months.
Did Sonnen shock the MMA world and dethrone the champ or did Jones pick up another easy win to extend his reign as champion. It was a fun fight. Check out the video below.
Chael Sonnen tuvo su oportunidad de sorprender al mundo esta noche en Newark New Jersey en el UFC 159. Después de aceptar una pelea con Jon Jones en tan solo 8 días de antelación después de Dan Henerson abruptamente se retiró de la pelea con Jones en UFC 151. El evento fue cancelado y Jones parece un talón por no tomar la lucha contra el mediano impetuoso. Pero Dana White vio una oportunidad e hizo los dos entrenadores de TUF 17 hombres. Jones y Sonnen entrenados contra otros con el nativo de Oregon impetuoso que sale en la parte superior. Pero esta noche en el Prudential Center Sonnen había que respaldar toda la conversación que había hecho durante los últimos 6 meses.
Quizá Sonnen choque del mundo de las MMA y el destronar al campeón o no Jones recoger otra victoria fácil para extender su reinado como campeón. Fue una pelea divertida. Mira el vídeo de arriba
Jon Jones and Chael Sonnen were all business at the weighins yesterday at the Prudential Center in New Jersey. There was no pushing and shoving but you could tell both men were ready to fight. It should be interesting to see how it shakes out tonight in the Octagon with Sonnen being such a heavy underdog to the champ. But the odds have been against Chael P. before and he camer super close to pulling the upset against Silva.
Matt Mitrione has been a lightning rod for controversy since he made some remarks about transgendered fighter Fallon Fox a few weeks ago. Since his rant he was fined and suspended by the UFC and he seemed to have learned his lesson. But ever since UFC light heavyweight champ Jon Jones went off on Mitrione earlier this week sticking up for Fox it looks like Dana White has a ready made fight should Jones want to move up to the heavyweight division.
According to Jones;
"People like Matt Mitrione are scumbags. He's a scumbag. I don't care if he's off suspension or doesn't fight again. He's a ridiculous person. He needs to shut his mouth. That's how I feel about that kid. He's scum."
Not to be outdown Mitione took to Twitter and called out Jones and wants him to come up in weight to fight him.
Last time I spoke, gotNtrouble4 talking bout sum1 using hands2hurt women, guess thats a lot better than Bentleys&Telephone poles @jonnybones

— Cornholio (@mattmitrione) April 26, 2013
Ur a spoiled brat that needs 2b taught a lesson & I'm the guy2do it. Come fight me at hvywgt within 1 year or ur a coward, kid @jonnybones

— Cornholio (@mattmitrione) April 26, 2013
Ok ok ok, I shouldn't have said coward. You're not a coward but we've got problems to solve & we fight for a living so….1+1= 2 @jonnybones

— Cornholio (@mattmitrione) April 26, 2013
Jones has stated in the past that he wanted to fight at heavyweight and a fight against Mitrione could be the first step in that direction should he decide to do it.
Chael Sonnen and Jon Jones are on weight and the fight is a go for tomorrow night at UFC 159. It's interesting to see how disinterested Jones is in engaging Sonnen. He looked down instead of right into his eyes like 90% of the fighters in the UFC do. We'll see how it shakes out tomorrow night when the two men finally get into the octagon.
Former WWE champ JBL took to Twitter yesterday to remind fans that he is retired and will stay retired. Fans in the UK earlier this week at the TV tapings tried to entice Layfield back into the ring by chanting "One more match".
To those who chanted 'one more match', after standing in the ring with @themarkhenry I gotta say…NOT A CHANCE!! I'm retired, he's strong.

— John Layfield (@JCLayfield) April 25, 2013
JBL is still fairly young but he has made a lot of money over the years in the stock market and doesn't need to get back in the ring. Now he has transitioned into commentary and seems to be comfortable there.
Count Jon Jones as one of the many people who were offended by Matt Mitrione's comments about transgender MMA fighter Fallon Fox. As we all know Mitrione ruffled the UFC's feathers by speaking out about Fox a few weeks ago on the MMA Hour. He was suspended by Dana White for his remarks for an indefinite amount of time and fined by the promotion as well.
According to Jones in a recent interview with MMAJunkie;
"People like Matt Mitrione are scumbags. He's a scumbag. I don't care if he's off suspension or doesn't fight again. He's a ridiculous person. He needs to shut his mouth. That's how I feel about that kid. He's scum."
I'm not sure I agree with Mitrione's comments but a person born a man does have advantages over a person born a female in a fight. But that's for the Athletic Commissions to sort out.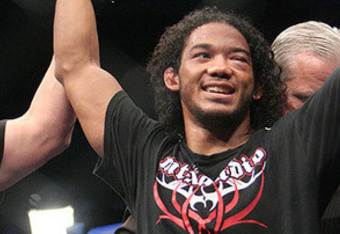 UFC lightweight champion Benson Henderson has been criticized recently for not being able to finish fights. He has been involved in some exciting fights but hasn't been able to finish anyone inf 7 straight UFC fights. Welterweight champ Georges St. Pierre has also been under scrutiny for his fighting style that usually sends the fight to the judges.
Henderson addressed the situation on Facebook earlier today.
I know I'm not the best (yet, ;-D), I was never the fastest, or strongest, or most athletic, or most technical or anything like that. Go ahead and ask any of my high school or college wrestling coaches. I was never picked 1st in dodgeball or basketball or soccer or football games growing up but one thing I always had was the will power and determination to NEVER give up, to not be afraid to open up my heart and give all of myself, to not hold anything back for the swim back to shore.

I guess I'm supposed to apologize that I'm no AndersonSilva or BJPenn, who is? I'm just that kid who would never stop, the kid whose older brother friends used to beat in 10 games of basketball (in a row) but would be pushing for the 11th game, yeah that's me. And just like back then I'm not going ANYWHERE, you want my belt, you're gonna have to pry it from my cold fingers.

No, I'm not the best but guess what, I've got the UFC LW belt and I'm just getting started, I'm getting better every single day…think about that, let that sink in.

A HUGE thanks to my growing family, faithful friends and real fans.

Smooth

*Chap. 3 is done, on to the next..
In Henderson's defense he has fought the best of the best since coming over from the WEC. When you are at the top the guys around you are so good it's hard to knock them out or submit them. 'Smooth' will face TJ Grant or Gray Maynard later this year.
The WWE announced that they have appointed a former executive from the UFC to a nice office job at corporate headquarters. Check out the press release below.
WWE today announced the appointment of Michael Pine as Senior Vice President of Global Sales & Partnership Marketing. Pine, who previously held senior level sales positions at Turner Broadcasting, UFC, World Triathlon Corporation, and most recently IMG, will report directly to WWE Chief Marketing Officer, Michelle D. Wilson.
As head of WWE's Global Sales & Partnership Marketing division, Pine will be a key member of the company's senior management team. He will be responsible for providing strategic vision for WWE's sales operation and ensuring revenue growth is aligned with company objectives and values.
Pine brings 15 years of experience in strategic sales and marketing across a variety of major sports properties and brands. Prior to joining WWE, Pine was IMG's Vice President of National Sales for the company's College Division. In this role, he was responsible for the daily development of national sales for IMG's College and NCAA corporate champions, and their partner programs with Turner and CBS business units. He managed IMG College's two largest national corporate partnerships, UPS and MillerCoors, accounts which exceeded $100 million.
Formerly, he held the position of Global Chief Sales Officer at Ironman – World Triathlon Corporation, where he oversaw all global sales, marketing, licensing, PR and digital media sales business verticals.
While at UFC, Pine oversaw and executed advertising, sponsorship, digital media and marketing operations. He secured key deals with Bud Light, Bacardi Cazadores, Harley-Davidson and Burger King, to name a few.
Pine was a U.S. Air Force Captain and served from 1993 – 1999. He earned his M.B.A. from Golden Gate University in San Francisco, California and his undergraduate degree in Behavioral Sciences from the U.S. Air Force Academy.
Cat Zingano announced her TUF 18 coaches yesterday on Twitter. As we all know Zingano earned the right to coach against Ronda Rousey on the 18th season of the Ultimate Fighter with her win over Miesha Tate two weeks ago at the TUF 17 Finale in Las Vegas. The fighters on the show will be both men and women at 135 pounds.
Ok, been getting asked a ton, my TUF 18 coaches @zinganobjj @leisterbowling @markhyena @lorenlandow @ufc @danawhite

— Alpha Cat Zingano (@CatZingano) April 20, 2013
Mauricio Zingano, Leister Bowling, Mark Beecher, Loren Landow will be her assistant coaches. Bowling was a coach on TUF 16 and Beecher was Forrest Griffins' Muay thai coach on TUF 7. The show will begin filming this summer and will air in September.
Rousey has yet to name her coaches for the show.
WWE Hall of Famer Bret Hart recently talked about his relationship with WWE CEO Vince McMahon during a recent Facebook Q&A session. After all they have been through all the years from the Montreal Screwjob to their match at Wrestlemania a few years ago the two men are finally getting along.
According to Hart;
"The last conversations we've had have been good. He seems to always be very warm and friendly with me. I would say he's on the very best of terms with me. I think the last time I really talked to him, my knee was pretty swollen. He wanted me to go out to the ring in Philadelphia — and I did go out — but we were talking about our various injuries, since he had just had hip surgery. We've both sort of realized that we're not getting any younger."
It's a shame age caught up to 'The Hitman' there is a lot of money to be made between McMahon and Hart if they could get in the ring together.