Archive for the 'UFC' Category
Jon Jones and Chael Sonnen were all business at the weighins yesterday at the Prudential Center in New Jersey. There was no pushing and shoving but you could tell both men were ready to fight. It should be interesting to see how it shakes out tonight in the Octagon with Sonnen being such a heavy underdog to the champ. But the odds have been against Chael P. before and he camer super close to pulling the upset against Silva.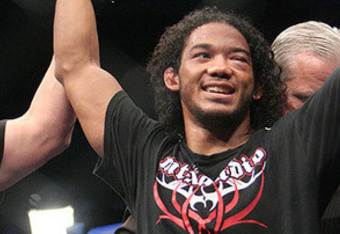 UFC lightweight champion Benson Henderson has been criticized recently for not being able to finish fights. He has been involved in some exciting fights but hasn't been able to finish anyone inf 7 straight UFC fights. Welterweight champ Georges St. Pierre has also been under scrutiny for his fighting style that usually sends the fight to the judges.
Henderson addressed the situation on Facebook earlier today.
I know I'm not the best (yet, ;-D), I was never the fastest, or strongest, or most athletic, or most technical or anything like that. Go ahead and ask any of my high school or college wrestling coaches. I was never picked 1st in dodgeball or basketball or soccer or football games growing up but one thing I always had was the will power and determination to NEVER give up, to not be afraid to open up my heart and give all of myself, to not hold anything back for the swim back to shore.

I guess I'm supposed to apologize that I'm no AndersonSilva or BJPenn, who is? I'm just that kid who would never stop, the kid whose older brother friends used to beat in 10 games of basketball (in a row) but would be pushing for the 11th game, yeah that's me. And just like back then I'm not going ANYWHERE, you want my belt, you're gonna have to pry it from my cold fingers.

No, I'm not the best but guess what, I've got the UFC LW belt and I'm just getting started, I'm getting better every single day…think about that, let that sink in.

A HUGE thanks to my growing family, faithful friends and real fans.

Smooth

*Chap. 3 is done, on to the next..
In Henderson's defense he has fought the best of the best since coming over from the WEC. When you are at the top the guys around you are so good it's hard to knock them out or submit them. 'Smooth' will face TJ Grant or Gray Maynard later this year.
It was a long time coming but someone finally finished Nate Diaz in the UFC. With 18 fights in the Octagon on his resume the only time Diaz has tasted defeat is at the hands of the judges. But last night Strikeforce import Josh Thomson got a huge TKO win in his return to the UFC.
Late in the second round Thomson landed a huge kick to the head of Diaz that clearly had him wobbly. Thomson then landed a big right that sent Diaz to the ground. After raining down ground and pound the ref stepped in and stopped the fight.
Now with the win over the perennial contender Thomson immediately jumps into the mix at 155 in the UFC. Diaz will likely head back to 170 where he had competed before dropping to lightweight.
After CM Punk showed up at the TUF 17 Finale last week the internet started to buzzing about potential "pipebombs" going off in the UFC one day. Punk has been training jiu jitsu for years and even incorporates moves into his matches. Then after his cryptic promo on RAW Monday after which he just walked back to the back fans were scratching their heads trying to figure what was going on with the former champ. Last night Punk showed up again at a UFC event, UFC on Fox 7 in San Jose with his girlfriend Lita by his side. The speculation was so rampant that Ariel Helwani asked Dana White about Punk potentially coming in to the UFC in the media scrum before the event..
But according to the UFC President it's not happening.
"He's a fan. He likes the sport and he comes out and supports it when we come. The Rock is a fan and comes out when he can. Undertaker is a big fan. A lot of those guys are fans."
Ever since Brock Lesnar crossed over and became the UFC heavyweight champion the fans want to see someone else do it. I imagine Punk is too old to compete at that level. Even if he has trained extensively in MMA he would need to take a few amateur fights then get a few wins as a pro before the UFC would even take a look at him.
With Joe Proctor out at UFC 159 later this month against Al Iaquinta the UFC was in a bind to find him an opponent. Ultimately Iaquinta decided to pull out of the event as well to let some old injuries heal up.
According to an interview with Fightline;
"I have been training through an injury to my leg the past six weeks, re-injuring it again a little more seriously last Saturday.I was going to push through it and fight anyway. When I heard Joe pulled out, I decided not to fight at UFC 159 and rehab my injury back to 100-percent before taking another fight."
But before word got out that Iaquinta was going to stay off the card people were coming out of the woodwork to fight him. Conor McGregor offered to step up on short notice as well as another surprising lightweight who isn't even on the UFC roster.
Newell hasn't really tried to hide the fact that he wants to fight in the UFC. Currently signed with the XFC out of Florida Newell is their 155 pound champion with a title defense due up later this summer against Scott Holtzman. Newell has talked about it in interviews and Dana White has even commented on how hard it would be for Newell to compete in the octagon with only one arm. But with a perfect 9-0 record Newell has done very well inside the cage and once his contract is up with the XFC it's likely he will sign with World Series of Fighting who tweeted about possibly seeing him compete for them earlier today.
The XFC has done a great job marketing Newell but you get the feeling he is tired of being a big fish in a small pond and wants to get to the big show that is the UFC to test his skills.
It's one thing to make Dana White angry. The UFC President is a hot head and usually flies off the handle with an F-bomb or two every now and then. But when you draw the ire of the UFC owner, Lorenzo Fertitta you really have messed up.
As you already know earlier this week UFC heavyweight Matt Mitrione went off on a tirade on the MMA Hour about transgener MMA fighter Fallon Fox. Mitrione called Fox "a lying, sick, sociopathic, disgusting freak," among other things. The next day Dana White announced that Mitrione was suspended and then released a UFC Code of Conduct that all fighters were to abide by.
Yesterday Fertitta broke his silence on the matter and gave his perspective as the owner of Zuffa on the situation.
Read the rest of this entry »
All of the contracted fighters in the UFC can thank Matt Mitrione for popping off now that the company as initiated a Code of Conduct that everyone must abide by. The document is pretty broad and covers just about everything from controversial remarks to getting popped for marijuana.
The first paragraph really sets the tone for the document.
Fighters shall conduct themselves in accordance with commonly accepted standards of decency, social convention, and morals, and fighters will not commit any act or become involved in any situation or occurrence or make any statement which will reflect negatively upon or bring disrepute, contempt, scandal, ridicule or disdain to the fighter or the UFC.
It goes onto list examples of violations to the new Code of Conduct such as, domestic violence, performance enhancing drugs, not getting medicals done on time, and the Mitrione rule-no disparaging others race, sexual orientation, etc…
The UFC does offer to assist fighters with counseling, treatment, or education and each person who is in violation of the Code of Conduct will have to undergo a clinical evaluation. If there is an incident the fighter must contact the UFC legal department immediately. Failure to do so could mean further disciplinary actions and won't help your cause with the guys at Zuffa. What sucks for the fighter is that the UFC can use misconduct before they became under contract should there be an issue or incident where the Code of Conduct comes into play.
There is an appeal process set up where the fighter and the UFC can go before an arbitrator in Las Vegas to have their case heard by an independent third party.
Check out the document below
It appears Matt Mitrione has ruined it for reporters who are trying to get interviews with UFC fighters. Now Zuffa is going to start picking and choosing who will be talking to the guys before fights according to Dana White today on the UFC on FOX 7 media conference call.
"It's one of those thing, it's just a pain in the ass. You know what I mean? First of all, he didn't even need to be doing an interview. And I'm going to talk to these guys. The only time these guys need to be doing interviews is leading up to fights. It ended up being a nightmare for him. What was the point of that interview? There's no point in it. Now it's causing him a bunch of headaches and problems for no reason whatsoever. He just fought and he wouldn't fight again for another few months. And he is still over there enjoying himself in Sweden. What was the point of doing that interview? What was the upside to that interview? There was none. No upside."
I didn't know Dana White was a Dwayne Johnson fan. Apparently the UFC President was rooting for the Rock at Wrestlemania 29 last night in his title match against John Cena. As we all know Cena came out on top and now Rocky will be headed back to Hollywood to make some more movies.
@danawhite Appreciate that brother! A helluva show. My tequila bottle awaits when I get home. Can't wait for #UFC159. #Bones

— Dwayne Johnson (@TheRock) April 8, 2013
What's really interesting is that the Rock is a Jon Jones fan. I figured with the way Chael Sonnen has embraced pro wrestling as his schtick in the octagon Rocky would lean towards him in the main event of UFC 159 later this month.
Gegard Mousasi was supposed to face Alexander Gustafsson at UFC on Fuel 9 last night in Sweden but wound up facing his teammate Ilir Latifi on just four days notice after the commission deemed Gustafsson was unfit to fight due to a cut over his eye. Mousasi wasn't very flashy but did enough to get a unanimous decision from the judges.
Latifi had the crowd right behind him throughout the fight but having cut almost 30 pounds in 3 days made him look sluggish and tired after the first round. There were times he sung for the fences but never really landed anything. Even though he came up short in the fight the UFC has promised to give him another fight since he did step up on very short notice to face such a dangerous guy as Mousasi.