Archive for the 'The Rock' Category
It was a pretty poor kept secret that Wrestlemania 29 would be the last time we would see The Rock in the WWE. After a three year part time run with the promotion that elevated him to superstar status it looks like Dwayne Johnson is done wrestling and will concentrate on acting.
The Rock confirmed the rumors with a tweet.
Mania may have been my last match. The 3 year goal was to come in & elevate the @wwe. Then proudly "do the honors". #RockTalk @tigertomblin

— Dwayne Johnson (@TheRock) April 26, 2013
He doesn't close the door completely and says it "may have been my last match". But with a torn abdomen and insufficient time to train for his time in the ring a permanent move to acting would make the most sense. The Rock is almost at the "A-list" status and anytime he goes back to the WWE he risks injuring himself and setting his film career back. He did come back and helped elevate John Cena to Hulk Hogan-like status. He even did CM Punk a favor and made him a pretty big deal last year.
It's likely he will pop up to promote a movie on RAW or accept a spot in the Hall of Fame possible in 2014 or 2015 but unfortunately it looks like 'The Great One' will not come back to the ring.
It looks like the Rock is done with the WWE, for now. He did three straight Wrestlemanias and was injured earlier this month with a torn abdomen which may set his movie career back a little. With big money in Hollywood pro wrestling will likely get put on the back burner now that he has done all he has set out to do.
"Possibly, to be honest with you. This is exclusive shit right here. Possibly, you know, the goal three years ago was – I sat down with Vince McMahon and we strategized about it, talked about three WrestleManias (WM27 as host, WM28 vs. Cena, WM29 vs. Cena) back-to-back, boom-boom-boom, and building to those. And, I committed myself to the company and I was very proud of that moment, didn't matter if I lost or did the job or not. It was an honor to do the honors. We wanted to build me to a certain place and become champion, and then do things the right way. It was the best way to give back. Was it my last match? Possibly. I'm really not too sure and I wouldn't rule it out. The plan the whole time was to create the Miami and create the biggest show of all-time in the biggest market of New York."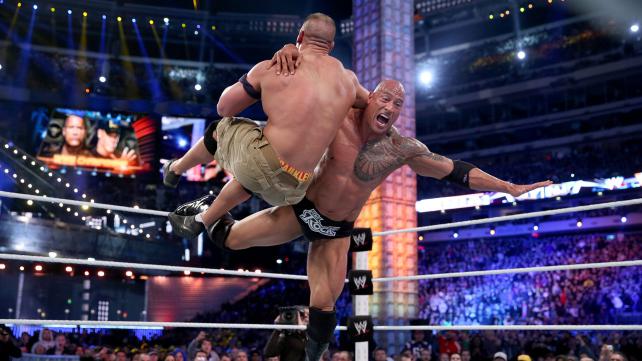 The Rock suffered a torn abdomen in his main event match with John Cena at Wrestlemania 29. The injury occurred around the ten minute mark in the match but Rocky worked through the pain and finished the bout putting Cena over clean. Rock tweeted the news late last night.
In the middle of last nights Wrestlemania match I tore my abdomen & adductor muscles off the bone. Just part of the job. But as we know..

— Dwayne Johnson (@TheRock) April 8, 2013
..It's all about #JustBringIt. WWE Universe THANK YOU for all the love & well wishes. Means everything to me. #LeaveItAllInTheRing

— Dwayne Johnson (@TheRock) April 8, 2013
There is a lot of heat on Rock for skipping out after 'Mania. He was supposed to film a segment with Brock Lesnar in the back setting up a match for Wrestlemania 30 next year.
The injury raises a lot of questions about the Rock's conditioning. He had put on a lot of mass and looked a lot bigger than most of the guys on the WWE roster. It seemed he had a hard time keeping up with CM Punk at the Royal Rumble earlier this year. Hopefully Rocky can heal up and get back to filming movies until it's time to come back for the next big match at Summerslam or Wrestlemania 30
I didn't know Dana White was a Dwayne Johnson fan. Apparently the UFC President was rooting for the Rock at Wrestlemania 29 last night in his title match against John Cena. As we all know Cena came out on top and now Rocky will be headed back to Hollywood to make some more movies.
@danawhite Appreciate that brother! A helluva show. My tequila bottle awaits when I get home. Can't wait for #UFC159. #Bones

— Dwayne Johnson (@TheRock) April 8, 2013
What's really interesting is that the Rock is a Jon Jones fan. I figured with the way Chael Sonnen has embraced pro wrestling as his schtick in the octagon Rocky would lean towards him in the main event of UFC 159 later this month.
Former WWE champ turned Hollywood star Dwayne 'The Rock' Johnson will return to the WWE tonight as the promotion gears up for it's run to Wrestlemania. Johnson will be appearing at the Royal Rumble as well as a few other appearances sprinkled in until he faces John Cena in a rematch from their match last year.
Johnson has been acting pretty much full time for several years but he has been popping in and out for the past year and a half. He even promised to capture the WWE title and defend it at Wrestlemania. It's thought that The Rock will beat CM Punk at the Rumble later this month to win the WWE title and then face in Cena for the belt at Wrestlemania where he will put him over and even their series at one apiece.
The Rock will be a regular until Wrestlemania. It works out well for him and the WWE. Johnson gets to promote his new GI Joe movie that comes out in March and Vince McMahon gets one of his biggest attractions back for a few months. After Mania Johnson will disappear for a while until McMahon backs an aromored car up to his door for another big match.
It will be fun watching CM Punk and the Rock go back and forth on the mic. If you remember Punk attacked Rock on RAW back in the summer setting up the feud that will finally begin tonight.