Archive for the 'Steve Austin' Category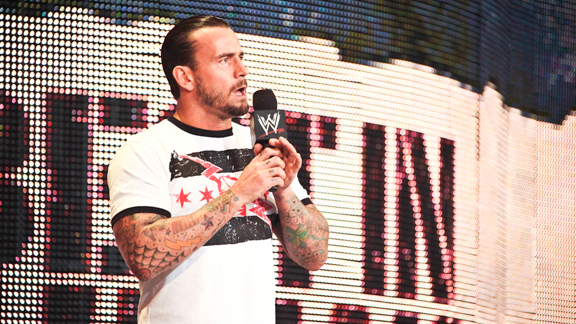 It's really no secret that CM Punk wants to face Steve Austin. He's been saying it for a while and it was rumored that Punk had tried to get Austin to come out of retirement for a showdown at Wrestlemania 29. On Busted Open satellite radio show Punk elaborated about why exactly he wants to get into the squared circle with 'Stone Cold'.
I think Steve Austin would be the guy. As well as I know Steve, me and him when we're in the same room shit just changes. People recognize that. There's always that thing with me and Steve where he's kind of poking me and I push back. I think a lot of guys, Steve pokes at them and they're just like, 'yes sir.' I think I was the first guy in forever that just pushed back and I think he liked that. I'm not saying anything is ever going to happen. Steve's in a great place and he's happy and for all intents and purposes, he shouldn't ever wrestle again. If time and money and all that stuff weren't an issue, yeah, Steve Austin.
We know the match isn't going to happen at Wrestlemania 29 tonight but we could get it at Wrestlemania 30 next year in New Orleans if Vince McMahon and Punk can convince 'The Rattlesnake' to put the boots on one more time.
Austin doesn't need the money and appears to be happy doing movies and hosting reality TV but there are a lot of fans clamoring for one more match and maybe next year we will finely get it.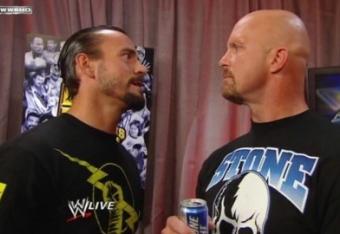 Every year around the Royal Rumble it starts again. "Will Steve Austin come back for Wrestlemania?", is asked by virtually every wrestling fan. Austin really cared the WWE through the "Attittude" era and retired in 2003 from active competition due to a neck injury but still popped up from time to time as a ref or some sort of authority figure.
Since he quit wrestling the fans have been clamoring for a return and we hear from his friends like Jim Ross how he's in the best shape of his life now that he is acting but could we see him one more time next year at Wrestlemania 30? Paul Heyman think so and even said so in a recent interview with the Chad Dukes show.
Let's say Austin comes back for WrestleMania XXX, let's say he comes back against CM Punk. Is that a $200 million dollar weekend in revenue? Is that a $200 million dollar gross revenue weekend and is the catalyst for that figure going from 150 to 200, Stone Cold Steve Austin? Now if that intrigues Steve, it intrigues me but I'm not Steve, I think Steve would be back.
Money makes the world go around. I'm sure Austin has plenty of cash to hold him over and his kids will never have to do without but if he can get a huge pay day like the Rock did for coming back it might be enough to entice 'The Rattlesnake' to get back in the ring and work a safe match against a respected veteran who could carry him through a match such as CM Punk.
The WWE has really set the bar for Wrestlemania by bringing Dwayne Johnson and Brock Lesnar back in back to back years. The old school fans tune in and the newer fans get to see the guys their dads talk about. If Austin came back it could be the shot in the arm the WWE needs. For Wrestlemania 30 Vince McMahon will want to go big in the Superdome in New Orleans. Imagine matches like Brock Lesnar vs. Sheamus, Dolph Ziggler vs. The Rock, John Cena vs. Undertaker, and CM Punk vs. Steve Austin. Those four matches are worth the price of the pay per view. It would bring old school fans back and elevate the younger guys like Sheamus and Ziggler. But you don't know if Rocky, Lesnar, Undertaker, or Austin will even be around.
I guess we'll have to wait and see how it shakes out next year. We still haven't even got through Wrestlemania 29 yet.
WWE Hall of Famer Steve Austin had a tough time during the storms that ripped through Texas earlier in the week. According to a TMZ report the repairs to the barn at the Broken Skull Ranch won't be cheap. Luckily, Austin wasn't harmed during the violent storms.
Since retiring from professional wrestling Austin has stayed at his Broken Skull Ranch and out of the limelight unless he makes an appearance for the WWE or a movie role.
Austin didn't participate in Wrestlemania last Sunday and is instead focusing on his acting career. 'Stone Cold' is currently working on a comedy that will be out sometime later this year.