Archive for the 'Kurt Angle' Category
When you think of TNA's biggest stars you have to think Kurt Angle and Sting. Sure Sting was the hottest thing in WCW for years and built his following there. Kurt Angle did come up through WWE and won their heavyweight title a few times before bolting to TNA after getting released by Vince McMahon. Since 2006 Angle has been one of the top draws in Total Nonstop Action with matches against just about everyone on the roster.
Should both Angle and Sting be inducted into the WWE Hall of Fame? WWE legendary commentator Jim Ross sure does think so. He even talked about it in his latest blog post.
"Do I think that Sting or Kurt Angle will ever be inducted into the WWE HOF? Absolutely, is my best educated guess. When? I have no idea but I hope I'm around to see both inductions."
I think Kurt Angle would have a 50-50 shot at best. He left the WWE on pretty bad terms but did hold the belt and had some pretty memorable matches with Brock Lesnar and Eddie Guerrero on big shows. Had he stuck around he could've been on the level as Triple H of Steve Austin. But now he's just a big fish in a pretty small TNA pond.
Sting, on the other hand is the one guy Vince McMahon could never get from WCW. He got Flair, Dusty Rhodes, the Road Warriors, and many others but Sting is the one wrestler to never come to the WWE. There were rumblings that Sting did give some consideration a few years ago but chose not to because of the risque content that was often showed on Monday Night RAW. I think there is a 30% chance he gets in when he retires but I do think that percentage will go up each year he is out of the ring because the WWE has inducted men who didn't work for them before such as Gorden Solie and Nick Bockwinkle.
Two of the biggest stars of the WWE 'Attitude' Era have teamed up to film a scene for the movie 'Pain and Gain'. The Rock tweeted the pic of he and former Olympian Kurt Angle. Both men are former WWE champs who battled each other in the squared circle several years ago. Rock actually competed at Wrestlemania last month and was victorious against John Cena in the main event. Angle is with TNA right now and has been their champ a few times as well. Rock has done really well in Hollywood where as Angle has had a few roles in some films, the biggest being in the MMA film 'Warrior'.
Michael Bay is the other man in the picture and he is the mastermind behind Transformers and just about every action movie from the 80′s and 90′s.
Kurt Angle is never one to check his ego during an interview. In a recent interview with Yahoo the former Olympic Gold Medal winner said his match with Jeff Hardy at Victory Road this weekend will be epic.
"I'm going to see how I feel," Angle said. "I don't plan on taking any time off. In pro wrestling, you can work around your injuries and still have a great, awesome match. But this cage match is very dangerous. I am facing Jeff Hardy. He's a high flyer. We're going to do a lot of crazy stuff in this match. I pray to God I don't further injure my injuries anymore. But I am brave enough, and maybe I'm stupid, but I want the fans to say, 'That was the best match I saw all year.' That's hard to say when you have Triple H and Undertaker in a Hell in a Cell match. But Jeff Hardy and I are capable of having just as good of a match as Undertaker and Triple H."
'Taker and HHH had a great match at Wrestlemania and it will be hard to top but I guess we will have to tune into see if they top it.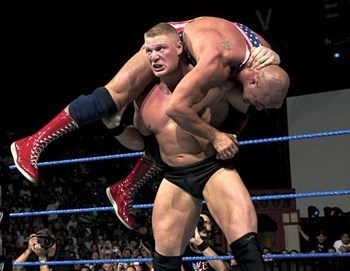 There is an urban legend in pro wrestling circles where Kurt Angle and Brock Lesnar squared off in a grappling match in a WWE ring back in 2002. Some people say that Lesnar won, some say Angle, some say it never happened. HIYW recently spoke to a former WWE wrestler who was there and witnessed it firsthand. While he refuses to be named, citing his friendship with both men he detailed how it went down for us.
"You have to understand that me and the boys had been on Kurt for a while about how Brock could beat him. Kurt was the baddest dude in the WWE and he really was an Olympic gold medalist. We knew he was the real deal and had he been able to make money in the UFC after he won the gold he would've took over and been the champion. But back then the UFC wasn't very big and there was very little money to be made.

Anyway when Brock came in he had a lot of hype behind him and we would get in Kurt's ear and say stuff like 'Brock said that you are a has-been and he could take you.' Then we'd go to Brock and say he was just a kid and Kurt would put him in his place just to get them riled up.'

One day before a show we were down by the ring talking and hanging out. There were about 12 of us. Someone suggested that Brock and Kurt get in the ring to see who was the man and settle it once and for all. Kurt said he was down and he and Brock jumped in the ring. The two went at it hot and heavy for about 30 seconds but Kurt got him down and pretty much dominated him. You have to understand Brock was a champion in college. But Kurt was the best in the world. Both men laughed it off but it's true Kurt had Brock's number that day. I think it would be a little different if they went at it now since Kurt's been injured a lot and Brock has been training MMA for several years. It really is a shame that Kurt never gave MMA a try. I think he would've done extremely well. It's too late for him to start now though. I think if he were to get in there with some guys like Cain Velasquez or Junior Dos Santos he would get knocked out pretty quick.

"Looking back it is pretty cool. I got to witness something that people would pay a lot of money to see and I saw it up close and for free. Back then it wasn't a big deal and it was something to keep the boys entertained but now you put those two guys in a cage and you would make someone a lot of money."
Well there you have it. It does make sense. Lesnar was dominant in college but Angle legitimately was the best in the world in 1996. Too bad we will never get to see it in the Octagon. Angle has sustained a lot of injuries over the years and according to Dana White couldn't pass the physical a few years ago.
Kurt Angle has seen his best days as a wrestler but he has shown no signs of slowing down recently. Angle was asked about his future after wrestling by with PW247radio.com and Angle sounds like he wants to stick with TNA as an agent instead of working with the WWE again.
If I end up in the Hall of Fame in the WWE, I don't know if I'll accept it. I love Vince McMahon. He made me a lot of money and was like a father figure to me. But Dixie Carter is my boss and I love her to death. So I don't know what I'm going to do. I would like to say that I am not going back to the WWE. But Vince McMahon may offer me something when I retire and I'm done with TNA. But I'd also like to be part of creative or be an agent in TNA. Out of everyone in the world, I am the best at coming up with finishes. I would like to stay with TNA and do that. A lot of people ask if I'd go back if Vince wanted me for WrestleMania, and I don't know the answer to that. But I know I am happy in TNA and I'd like to stay there.
Angle can say all he wants but if McMahon offered him a really good deal don't be surprised if Angle jumps to the WWE.
Kurt Angle is an Olympic gold medalist and could have been a legit title contender in the UFC but in 96 when Angle decided to pursue pro wrestling the UFC was not as established as it is now. In a recent interview with PW247radio.com Angle talks about his experience with Dana White and the UFC.
I've had a lot of talks with Dana White. While he's denied the offers, Dana and I respect each other enough for us not to say exactly what was offered. The thing was, he wanted me to be ready in a short time and I couldn't do that. I wanted months, he wanted weeks. We're good friends and I hope he has great success. But you know what, he's said some negative things about me in the press. I still love him to death. I did pass his physical, meaning I was ready for competition, but he wanted me to be ready in four to six weeks and I couldn't do that. It's impossible. There's also the fact that I'm signed with TNA and Dana didn't want anyone fighting for him and wrestling at the same time. So Dana White, God bless you. Whatever you say, I'll respect that because I know you wanted me to fight for you and wanted me to be your guy.
According to Dana White Angle couldn't pass a physical and would've competed on TUF 10 with Kimbo Slice and Roy Nelson.