Archive for the 'Hulk Hogan' Category
WWE legend Hulk Hogan wants to be the man to induct his former rival, Macho Man Randy Savage into the WWE Hall of Fame. Thought the two had ups and downs in the pro wrestling careers the Hulkster told Fight Spirit Magazine that he wants to be the man to induct Savage should he get the nod from Vince McMahon to go into the Hall.
He deserves to be in the Hall of Fame, and I would love to be the one that inducts him. I've got a speech for him ready to go. I just think it's a must that he's in the Hall of Fame; he was so influential in this business, especially in the WWF, and in my career. …For me, it would be cool to induct him. We had a rift for about 10 years, and then right before he passed away, I was getting an EKG, when I hear (mimicking Randy's voice) 'Yeah, what's up, brother?' And I looked over, and he was there, looking great. I said, 'Hey Mach, how you doing?' I shook his hand, and introduced him to my wife, Jennifer. He's like, 'Hello lovely lady, how ya doing?' … I was on a show with Lanny (Poffo, Randy's brother), Scott Steiner and Kevin Nash in Canada [around the time of Randy's passing], and Lanny had told me that his mom was depressed because his dad had passed away, and would me and Randy come to see her? We were gonna have a barbecue at Randy's house for his mom, and surprise her. But midweek, Randy passed away. It was tough because we just started talking after all that bullshit; I was excited to talk to him, he was excited to talk to me, and then he passed away. It was [expletive] up. He was a great human being, too. He had a good heart, man. He was a good person."
Hogan and Savage were friends and enemies on the screen and off for years. It's good the two Mega-powers made peace before Macho Man passed away.
It's a wonder Savage isn't in the Hall of Fame yet. There are rumors that Savage slept with a young Stephanie McMahon and things like that but supposedly the reason he has yet to be inducted is the way he left the WWE and jumped to WCW during the Monday Night Wars. Savage was a commentator on RAW who didn't show up to the WWE event and was on WCW Nitro that night. McMahon found out by tuning into his competitor's show and seeing his former champ. It was a slap to the face and Vince never forgave him. The WWE did air a nice tribute video when Savage passed away and now that he is gone I believe eventually he will wind up in the WWE Hall of Fame. Maybe 2014 he will get the nod and Hogan can induct him. I imagine his brother Lanny Poffo would be happy to accept on his behalf.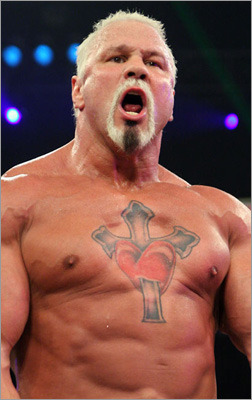 After Scott Steiner went off on Hulk Hogan and TNA on Twitter this week Hogan finally broke his silence and responded to 'Big Poppa Pump' on Twitter today.
"Wow do I feel like a fool!I knew Steiner came to TNA the last tapings then was asked to leave,I heard the news and I was lobbying hard to bring him back the right way because I see money and talent in him,I had no idea he felt that way about me because he is always really nice to me and my family,guess I was really wrong,at least I know who he really is now. HH."
Steiner has been a hot head in the past and never bites his tongue. Hogan took the high road instead of trashing Steiner. But then again had he said something Steiner might have killed him the next time he saw him. You never know about Steiner.