Archive for the 'Georges St. Pierre' Category
Perennial welterweight contender Jake Ellenberger brings up an interesting point about Georges St. Pierre. The champ is at the point of his career where he has little left to gain by fighting challengers in his division. He has pretty much defeated everyone in his weight class and the fans are basically waiting around for him to get beat.
"A lot of people like to talk negatively about GSP, but to be able to do what he does against the top guys, consistently, it's extremely hard. For him it's like, he's in a position where he can only lose, it can only get worse. If I was him, I would look to fight Anderson Silva then retire."
St. Pierre will face Johny Handricks later this year in a bout where he will be the favorite and will be expected to win. Hendricks is very tough and could provide a challenge with his heavy hands and strong D-1 wrestling. Should GSP come out on top a fight with Silva does make sense and win or lose it's a good way for St. Pierre to ride off into the sunset.
People criticize St. Pierre for his boring wrestling-based fighting style but as we saw when Jon Fitch got cut the fans will miss him when he's gone.
St. Pierre hasn't said specifically when he will retire but with a big time movie role in the new Captain America movie and remarks from his coach about how hard a training camp is physically, we could see 'Rush' starting to begin to transition to another part of his life that doesn't involve competing.
Matt Brown may have won 4 straight fights and be one of the most exciting guys in the UFC but he isn't even ranked in the official Top Ten of the division. Although he won't be getting a shot at the belt anytime soon 'The Immortal' is still pretty confident that he is the man to dethrone champ Georges St. Pierre.
Brown told Alchemist Radio earlier this week,
"Same old GSP, he does the same thing to everybody. They all know what he is going to do, but they still can't stop it. I think I can do what he does better and totally stifle his game. I know that sounds kind of crazy especially considering most of my losses have been by submission and I'm not a big credentialed wrestler. I understand that people will laugh when I say that, but it doesn't bother me, I train with higher level wrestlers than he trains with. I'm honest with myself and I know where I'm at and I know what I can accomplish. I know that I can get there and I can beat him."
If Brown can get by Jordan Mein at UFC on Fox 7 next month look for Brown to get a fight with a contender. Even if he wins that he is still a win or two away from getting a bout to fight for the #1 contender spot.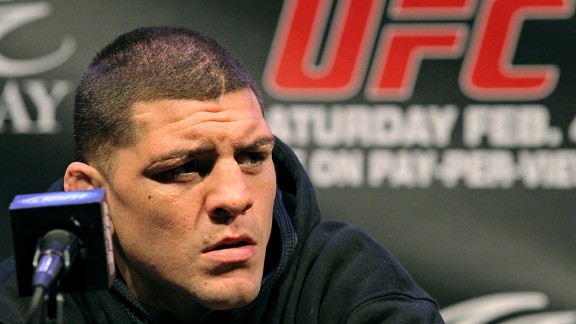 Today's UFC 157 media conference had more fireworks than the last three Georges St. Pierre title fights. Nick Diaz pulled no punches calling out champ Georges St. Pierre for being pampered and having people to do stuff for him. He even called out St. Pierre for being a boring wrestler, something that 'Rush' gets accused of because of his boring wrestling style.
You've got Georges and someone's powerding his nose and sending him off for a photo shoot. Someone's doing twitter for him. I don't know how it works out. I'm not in his shoes. I have a little moderate assumption I can make from time to time. I would just like to keep it real and be me. Everyone knows who I am. It's embarrassing not being in control of looking the way you look or coming off the way you want to come off. I'm happy for it when I'm ready for it. My life's a mess. I'm not afraid to admit it. I work hard regardless through this shit. I don't have people handing me water bottles left and right. I have to do that shit on my own and every day I know that I'm doing it on my own and that's why I know I've got to do it that much harder. I don't have people taking care of my money and my financial obligations what have you. All that stuff that people say is important, fuck that. I'm too busy fighting your fights. This new martial arts works for them when it comes to everybody wanting to be like GSP and want to be strong and have that fitness and be more explosive and quicker. It's really not what martial arts is about. This is mixed martial arts and that's what fans want to see. I've lost a shit load of fights but I'm still here. People want to see real boxing, real traditional jiu-jitsu mixed up. They don't want to see five minutes of holding. I think people should be point deducted for it or running away. You should have to punch me out to beat me. People should be able to see that a little better. Maybe one day.

I hope so, if I had that much money I'd be pampered the fuck up. There's be people showing up every hour to pamper me the fuck out. Mother fucker I'm not stupid. I can tell what's what.
St. Pierre responded by calling Diaz uneducated and went off on him in a way we hadn't see GSP do before. The war of words always makes the fight more interesting and in just a few days the time for talking will be over and the two welterweights will get to settle it in the cage.
UFC welterweight champ Georges St. Pierre appeared on the hit Fuel TV UFC Roundtable hosted by Jay Glazer along with Matt Serra, Renzo Gracie and his rival BJ Penn. During the show GSP admitted that he is scared before fights. Not that I wouldn't be either but the champ uses the fear to make himself better in the octagon.
"I'm the kind of guy that I'm not afraid to admit that I'm afraid when I go fight," said GSP. "Even though I'm scared and I'm afraid to fail, when I walk to the Octagon, I look like I'm, it's impossible for me to fail and I look very confident, like I'm going to kick ass for sure. But the truth is, deep down inside, I'm scared as hell."

"My mind starts changing and listens to my body. This is a theory called James-Lange theory, and for me, it works very well because I get very anxious before I fight. …That's my trick. When I walk, I'm scared and that's how I feel, but as I'm walking, the closer I get the more confident I get."
St. Pierre will next face Nick Diaz at UFC 158 in March. The fight will take place in Montreal and should Diaz win the fans will likely burn down the arena.
MMA fans get to go behind the scenes of UFC 154 as Georges St.Pierre and Carlos Condit prepare for their main event title fight at UFC 154 on Nov. 17th. The two men are sitting atop the welterweight division and have created a logjom for guys like Johny Hendricks and Martin Kampmann who are waiting for the picture to clear up so they can get a crack at the belt. Both men are Greg Jackson guys who like each other but aren't necessarily training partners.
It'll be a fun fight as Condit could be ready to shock the world with GSP coming off an injury and a little ring rust.
888, umbrella brand for 888poker, 888casino and 888sport, is proud to announce a new global endorsement contract with French Canadian mixed martial artist and world champion, Georges St-Pierre, also known as "GSP". Georges St- Pierre, who is best acknowledged as a MMA world champion; will become an official global brand ambassador for 888.com and its house of brands.
GSP has built a dedicated fan base over the years through his exceptional sporting career that comprises of 22 wins, the all-time most consecutive welterweight title defenses and two MMA World Champion titles.
Utilizing GSP's strong brand awareness throughout the world will be an integral part of 888′s 2012-2013 marketing strategy. Itai Pazner, Senior Vice President of 888 B2C, stated: "The partnership agreement with Georges St-Pierre will strengthen our brand awareness around the globe and introduce 888 to the growing sport of MMA and its fans. It is exciting to have this international sports celebrity on board with us."
Read the rest of this entry »
Josh Koscheck won't be getting a title shot as long as Georges St. Pierre is the champion. The former #1 contender has lost to St. Pierre twice and there is no more money in 'Kos' he getting another shot at the belt. Koscheck will now face Mike Pierce this weekend at UFC 134 and needs a win to stay relevant in the division. Pierce is a guy who has nothing really to lose in the fight and has everything to gain. Kosheck was originally slated to face Carlos Condit but with GSP falling out Condit got moved to the main event. Now Koscheck is toiling on the undercard of the shows hoping to impress Joe Silva or Dana White so he can get back to the top.
'Kos' can't stand St. Pierre. After two losses to the guy you would think he's be a little nicer.