Archive for the 'Dan Henderson' Category
Winnipeg could be host to a showdown between two of the most successful light heavyweights in recent history. If Dan Henderson gets cleared to compete by a doctor following his suspension after his fight with Lyoto Machida at UFC 157 he will face former champ Rashad Evans at UFC 161 on June 15th.
Both men need a win to get back into the mix at 205. Evans has lost two straight for the first time in his career with losses to current champ Jon Jones and Lil' Nog. Hendo was promised a title shot if he won at UFC 157 but coming up on the wrong side of a split decision he will need a win over Evans he wants to be mentioned as a contender.
Noguiera is set face Shogun Rua on the card and Tyrone Woodley will take on Jake Shields at UFC 161.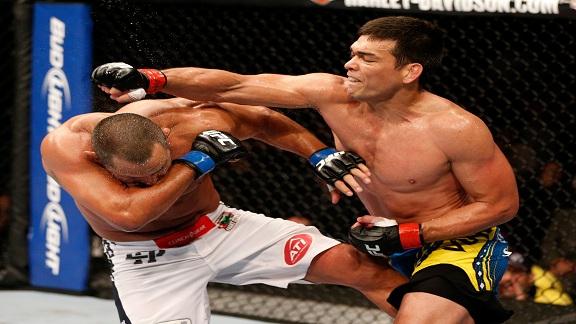 At UFC 157 Lyoto Machida came out on top of a very close fight against Dan Henderson. Machida won a split decision but Hendo insists he won the fight.
"Normally that's not my type of fight, a little bit boring. He did a good job moving around and was real hard to hit. I needed to stay in his face and cut him off a little bit better and make him fight. He did a good job not fighting. I won the fight, but not officially. I hit him whenever he wanted to fight. He ran away most of the time."
But if you as Machida there was never any doubt about how it should've been judged and he won, hands down.
"I felt that I won the fight. Because in my score, I kneed him many times. I kicked him. I took him down. In the third round, he didn't take me down. I slipped, and he took advantage of this. I felt I won the three rounds, and I was very surprised by the split decision. It was my game plan to keep the fight standing up and to avoid the ground position and his right hands. Look at my face. Nothing. [He kicked me] just a little bit in the legs, but I can put ice on that and it will go away soon. I can make my distance, and I kick hard. I didn't let him grab me, and I [avoided] a lot of wrestling."
Sorry Alexander Gustafsson, despite being told he will have the next title shot UFC President Dana White backpedaled a little and said that winner of Dan Henderson vs. Lyoto Machida in the co-main event at UFC 157 will get the next crack at the UFC light heavyweight champion. Henderson was in line to face Jones last year but backed out due to injury a week before the fight which ultimately led to the events cancellation once an opponent couldn't be found for the prickly Jones.
Jones will face Chael Sonnen this Spring of the title and it would be a huge upset should Sonnen walk away with the title. A Sonnen vs. Henderson fight would be very intriguing considering both men are training partners. But Sonnen hasn't fought at 205 in years and a win is highly unlikely.
A former champ himself, Machida has already fought Jones for the belt and was submitted in the second round by the champ in 2011.
PRIDE legend Dan Henderson was leapfrogged by trash talking teammate Chael Sonnen who now gets a shot at UFC light heavyweight champ Jon Jones this Spring. Henderson was pretty upset that Sonnen got the title shot but seemed to put that aside and helped his teammate coach on The Ultimate Fighter which just wrapped production. But according to an interview with Brazilian media outlet Tatame Henderson would fight Sonnen if he won the belt from Jones.
"We're friends, but above all we fight now in the same category and therefore have the same goal. We both compete for the same belt. Our friendship is more than a title and we are professional enough to let the rivalry be just inside the Octagon. It would be a different situation, but our profession in this type of situation is quite possible to happen."
Sonnen is a pretty big underdog against Jones so it's pretty doubtful the two would meet but stranger things have happened in the octagon. Sonnen has a lot of respect for Henderson and it's doubtful we would see the pro wrestling trash talk that we have grown accustomed to from Chael if the fight were to happen. Hendo must beat Lyoto Machida to get the shot though.
It was announced last week that Ronda Rousey will headline UFC 157 against Liz Carmouche while former PRIDE champ and living legend Dan Henderson will meet former UFC light heavyweight Lyoto Machida in the co-main event of the evening. After the announcement fans on the internet went crazy with a woman's fight headlining a card over a legend who is beloved by fans around the world.
Hendo took to Twitter to try to squash the bickering amongst keyboard warriors everywhere.
I am perfectly fine as the co-main. I will get to relax and enjoy the women go at it. RT (cont) tl.gd/ke34ao

— Dan Henderson (@danhendo) December 21, 2012
So there you go if Henderson doesn't mind playing second fiddle to the ladies then hopefully the backlash will subside against Rousey and Carmouche.
Henderson is a win away from a title shot against his buddy Chael Sonnen or Jon Jones. Whoever comes out on top will face Hendo for the belt later this year should he get by Machida first.
Former Strikeforce and PRIDE light heavyweight champ wants to challenge Junior Dos Santos for the UFC heavyweight title now that Alistair Overeem appears to be out of the fight due to a drug test he recently failed. 'Hendo' tweeted that he would take the fight with Dos Santos at UFC 146 if offered by the Zuffa brass.
For sure..RT @Jitterbug2Djent: @danhendo Would you take the JDS fight if offered?
As of now, the UFC has not selected anyone and Dana White shut down any hope of Frank Mir challenging for the belt yesterday on Twitter. Could the UFC insert Henderson into the slot or let him wait for the winner or Jon Jones/Rashad Evans?
Stay tuned boys and girls. UFC 146 could get shaken up.