Archive for the 'CM Punk' Category
After CM Punk showed up at the TUF 17 Finale last week the internet started to buzzing about potential "pipebombs" going off in the UFC one day. Punk has been training jiu jitsu for years and even incorporates moves into his matches. Then after his cryptic promo on RAW Monday after which he just walked back to the back fans were scratching their heads trying to figure what was going on with the former champ. Last night Punk showed up again at a UFC event, UFC on Fox 7 in San Jose with his girlfriend Lita by his side. The speculation was so rampant that Ariel Helwani asked Dana White about Punk potentially coming in to the UFC in the media scrum before the event..
But according to the UFC President it's not happening.
"He's a fan. He likes the sport and he comes out and supports it when we come. The Rock is a fan and comes out when he can. Undertaker is a big fan. A lot of those guys are fans."
Ever since Brock Lesnar crossed over and became the UFC heavyweight champion the fans want to see someone else do it. I imagine Punk is too old to compete at that level. Even if he has trained extensively in MMA he would need to take a few amateur fights then get a few wins as a pro before the UFC would even take a look at him.
Former WWE champ CM Punk was shown on camera Saturday night in Las Vegas at the Ultimate Fighter 17 Finale at Mandalay Bay. Punk was in attendance with his girlfriend, former WWE Diva Lita. He appeared on the MMA Hour today with Ariel Helwani to discuss the show, which just happened to be his very first UFC event. Punk admitted that he didn't get clearance from the WWE to be at the show and he probably wouldn't be in trouble for being shown live on TV at the event.
Punk did have some ideas about how to make the event better and offered up some solutions;
"I found myself sitting there coming up with ways to make it better in my own head, but that's just what I do," Punk said. He also brought up all the down time after each fight and said there should be a large clock at the venue for fans to be able to see the time in each round. Punk admitted he watched the big screen over the cage but could barely make out the numbers to see where they were in the round.
Punk said he had a great time and talked with UFC President Dana White about it but said he would never make the transition from squared circle to the octagon. He did joke about the UFC needing better refs and he could possible do that one day.
Tonight on RAW Punk is supposed to cut a promo about an injury he sustained at the hands of the Undertaker at Wrestlemania 29 and it should set up his next storyline. But some nagging injuries may be hindering him and it's possible we could see him take a little time off or not be as active in the ring until he gets healthy.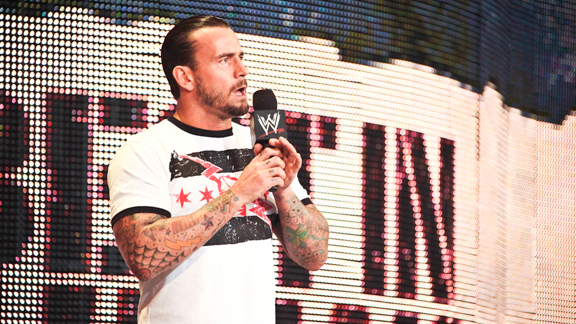 It's really no secret that CM Punk wants to face Steve Austin. He's been saying it for a while and it was rumored that Punk had tried to get Austin to come out of retirement for a showdown at Wrestlemania 29. On Busted Open satellite radio show Punk elaborated about why exactly he wants to get into the squared circle with 'Stone Cold'.
I think Steve Austin would be the guy. As well as I know Steve, me and him when we're in the same room shit just changes. People recognize that. There's always that thing with me and Steve where he's kind of poking me and I push back. I think a lot of guys, Steve pokes at them and they're just like, 'yes sir.' I think I was the first guy in forever that just pushed back and I think he liked that. I'm not saying anything is ever going to happen. Steve's in a great place and he's happy and for all intents and purposes, he shouldn't ever wrestle again. If time and money and all that stuff weren't an issue, yeah, Steve Austin.
We know the match isn't going to happen at Wrestlemania 29 tonight but we could get it at Wrestlemania 30 next year in New Orleans if Vince McMahon and Punk can convince 'The Rattlesnake' to put the boots on one more time.
Austin doesn't need the money and appears to be happy doing movies and hosting reality TV but there are a lot of fans clamoring for one more match and maybe next year we will finely get it.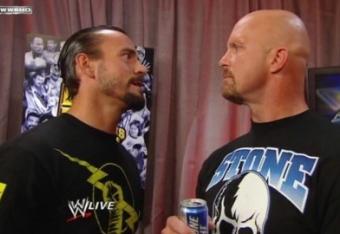 Every year around the Royal Rumble it starts again. "Will Steve Austin come back for Wrestlemania?", is asked by virtually every wrestling fan. Austin really cared the WWE through the "Attittude" era and retired in 2003 from active competition due to a neck injury but still popped up from time to time as a ref or some sort of authority figure.
Since he quit wrestling the fans have been clamoring for a return and we hear from his friends like Jim Ross how he's in the best shape of his life now that he is acting but could we see him one more time next year at Wrestlemania 30? Paul Heyman think so and even said so in a recent interview with the Chad Dukes show.
Let's say Austin comes back for WrestleMania XXX, let's say he comes back against CM Punk. Is that a $200 million dollar weekend in revenue? Is that a $200 million dollar gross revenue weekend and is the catalyst for that figure going from 150 to 200, Stone Cold Steve Austin? Now if that intrigues Steve, it intrigues me but I'm not Steve, I think Steve would be back.
Money makes the world go around. I'm sure Austin has plenty of cash to hold him over and his kids will never have to do without but if he can get a huge pay day like the Rock did for coming back it might be enough to entice 'The Rattlesnake' to get back in the ring and work a safe match against a respected veteran who could carry him through a match such as CM Punk.
The WWE has really set the bar for Wrestlemania by bringing Dwayne Johnson and Brock Lesnar back in back to back years. The old school fans tune in and the newer fans get to see the guys their dads talk about. If Austin came back it could be the shot in the arm the WWE needs. For Wrestlemania 30 Vince McMahon will want to go big in the Superdome in New Orleans. Imagine matches like Brock Lesnar vs. Sheamus, Dolph Ziggler vs. The Rock, John Cena vs. Undertaker, and CM Punk vs. Steve Austin. Those four matches are worth the price of the pay per view. It would bring old school fans back and elevate the younger guys like Sheamus and Ziggler. But you don't know if Rocky, Lesnar, Undertaker, or Austin will even be around.
I guess we'll have to wait and see how it shakes out next year. We still haven't even got through Wrestlemania 29 yet.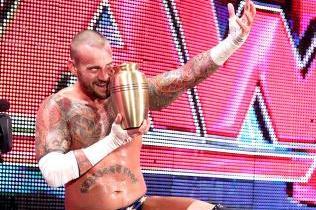 After Paul Bearer's tragic passing a few weeks ago the WWE reached out to the family and asked for permission to use his death as part of the build up for Wrestlemania. CM Punk has been taunting the Undertaker with an urn that was believed to contain Bearer's ashes.
Last night as RAW was in it's final segment Taker was in the ring cutting a promo on Punk. All of the sudden the lights went out and Paul Heyman appeared at the top of the ramp dressed as Paul Bearer surrounded by druids. The Undertaker rushed up the ramp and attacked one of the hooded druids when all of the sudden Punk (who was disguised as a druid himself) attacked Undertaker. Once the Dead Man was down and appeared injured Punk poured the ashes inside the urn on top of his Wrestlemania 29 opponent.
Bearer's son, Michael Moody posted about watching the skit on his Facebook page. And from the looks of it he wasn't very impressed.
"If anyone is wondering, yes, WWE did come to us wanting approval for tonight's storyline. The way it was presented to us was ok. Seeing it on screen was a different story. I don't even know what to say."
If you didn't see the urn skit from RAW please check out the video below and judge for yourself.
It's been no secret for most of the year that The Rock and John Cena were going to square off for the WWE Title at Wrestlemania 29. But what many didn't really know was how the rest of the card was going to shape up. Now that we are 3 weeks away from the 'Showcase of the Immortals' we now know the majority of the card.
The Rock vs. John Cena
Alberto Del Rio vs. Jack Swagger
Triple H vs. Brock Lesnar
The Undertaker vs. CM Punk
Ryback vs. Mark Henry
Kane and Daniel Bryan vs. Dolph Ziggler and Big E Langston
Sheamus, Randy Orton, and Big Show vs. The Shield (Dean Ambrose, Seth Rollins and Roman Reigns)
There are likely to be a few other matches added but as of now those listed above are the only ones that are official. We could see Miz vs. Wade Barrett for the Intercontinental Title and Chris Jericho vs. Fandango. I am not sure if the WWE would want to have Fandango's first match at their biggest show but surely Y2J will get a spot on the card. Antonio Cesaro will also get a spot on the undercard possibly the Youtube match before the show goes live on pay per view. Cody Rhodes and Damien Sandow also could get something or at least appear in a skit during the show. Rhodes has been giving a lot of time on TV lately and I doubt they leave him off the show. Ziggler has a lot of momentum and could cash in his Money in the Bank suitcase at the show should Del Rio retain his title from Swagger.
It's a shame we are getting stuck with The Rock vs. Cena 2 and a rematch of Lesnar and HHH. I'd rather see fresh matchups between the established guys and up and comers. The Rock vs. Ryback, Ziggler vs. Cena, Lesnar vs. Miz, and Triple H vs. Rhodes would be a lot more fun and would help bring up the guys facing the big names who are already giant Superstars in the WWE Universe. In a few years Lesnar, the Rock and Triple H won't be around and the WWE will need fresh stars for future Wrestlemanias that they should be building now.
WWE champ CM Punk will sing 'Take me out to the ballgame' at Wrigley Field on May 8th for the Chicago Cubs during the 7th inning stretch. Punk is a Chicago resident and has been an avid Cubs fan all his life. He actually lobbied for the job on Twitter last week and apparently got his wish.
@CMPunk Our fans have spoken. Would you like to sing the 7th inning stretch at Wrigley Field May 8 vs. the #Braves? atmlb.com/I0A6Gw

— Chicago Cubs (@Cubs) April 21, 2012
@Cubs uh. Let me check my scheduleYESIWILLDOIT.

— CM Punk (@CMPunk) April 21, 2012
After Punks sings maybe he can talk to the Cubs management about trying out for the team. With the worst record in the National League it appears the Cubs are destined to be the laughing stock of Major League Basebaall.
CM Punk was on a Fox talk show in Washington DC this morning to hype Monday Night RAW that will take place live tonight at the Verizon Center. Punk talked about Steve Austin not being on his level with his straight to DVD movies and hunting that he has been doing. There are rumblings that Punk and Austin could compete at Wrestlemania 29 next year. With the WWE bringing The Rock and Brock Lesnar back you have to wonder if Austin is next and Punk is a guy who has been calling him out and taking cheap shots for a while.
WWE Champ CM Punk bashed The Rock in a recent interview with ESPN. It seems Punk doesn't appreciate The Rocks attitude when he comes back to the WWE. On the otherhand, Punk praises Cena who he says still hangs out with the wrestlers backstage and hasn't let his fame go to his head.
"I don't know if it's some weird vanity project for him to come back and fraternize with us little people, but I appreciate it. If it puts more money in my bank account, that's cool, even if I'm not a money guy. I'm very passionate about wrestling. This is what I do. I'm not leaving to go film movies. It's just me and the rest of the crew, the men and women of the WWE who are on the road constantly, and I'm not the only one who is, I don't want to say bitter, because I get it, it's a business move where Dwayne comes in and people buy some pay-per-views, but it's the attitude that gets to me.

"He's very bourgeoisie Hollywood, and I just wish he would say hello to people backstage and not act like he was above everybody. Cena doesn't act like that. Cena sits and talks and fraternizes with everybody, but Dwayne just can't be bothered. Then again, I don't know if anyone really wants to hang out with him. He was in the 'Tooth Fairy.' If he's so good at what he does, why doesn't he impart some of that knowledge to the young guys and help out? I guess I'm just trying to figure out why he came back. I don't think it's money. I think he's OK money-wise, so I don't know."
I doubt that Punk is trying to make an angle out of this since The Rock is tied up with Cena until Wrestlemania and it's doubtful they would bring Punk into the mix.