Archive for the 'Brock Lesnar' Category
If you live by the sledgehammer, you die by the sledgehammer. And that's exactly what happened last night at Extreme Rules. Triple H got hit in the jaw with a sledgehammer before getting caught in Brock Lesnar's F5 that sent him crumpled to the ground. After Triple H evened their series at 1 a piece Lesnar took the rubber match last night to hopefully end the feud.
The fans want to see Lesnar in fresh matchups and it's silly that the WWE brought him back just to feud with the CEO's son in law for most of the year when he could be helping elevate other talent who needs the rub that comes from being in the ring with the former UFC champ.
It's been no secret for most of the year that The Rock and John Cena were going to square off for the WWE Title at Wrestlemania 29. But what many didn't really know was how the rest of the card was going to shape up. Now that we are 3 weeks away from the 'Showcase of the Immortals' we now know the majority of the card.
The Rock vs. John Cena
Alberto Del Rio vs. Jack Swagger
Triple H vs. Brock Lesnar
The Undertaker vs. CM Punk
Ryback vs. Mark Henry
Kane and Daniel Bryan vs. Dolph Ziggler and Big E Langston
Sheamus, Randy Orton, and Big Show vs. The Shield (Dean Ambrose, Seth Rollins and Roman Reigns)
There are likely to be a few other matches added but as of now those listed above are the only ones that are official. We could see Miz vs. Wade Barrett for the Intercontinental Title and Chris Jericho vs. Fandango. I am not sure if the WWE would want to have Fandango's first match at their biggest show but surely Y2J will get a spot on the card. Antonio Cesaro will also get a spot on the undercard possibly the Youtube match before the show goes live on pay per view. Cody Rhodes and Damien Sandow also could get something or at least appear in a skit during the show. Rhodes has been giving a lot of time on TV lately and I doubt they leave him off the show. Ziggler has a lot of momentum and could cash in his Money in the Bank suitcase at the show should Del Rio retain his title from Swagger.
It's a shame we are getting stuck with The Rock vs. Cena 2 and a rematch of Lesnar and HHH. I'd rather see fresh matchups between the established guys and up and comers. The Rock vs. Ryback, Ziggler vs. Cena, Lesnar vs. Miz, and Triple H vs. Rhodes would be a lot more fun and would help bring up the guys facing the big names who are already giant Superstars in the WWE Universe. In a few years Lesnar, the Rock and Triple H won't be around and the WWE will need fresh stars for future Wrestlemanias that they should be building now.
"That guy's a waste of flesh. I've never met a bigger asshole in my life. They spent all that time pumping him up. They hand fed him…I think Mir and Couture threw the goddam fights. I know Randy Couture's a much better wrestler than Lesnar ever thought about being. Mir could've been the greatest of all time if it wasn't for that motorcycle accident. There's no way either one of those guys should have lost to Lesnar. I've had a couple dinners with Lesnar, had a couple drinks with him and found him to be a complete asshole."
Don Frye pulls no punches when asked about former UFC heavyweight champ Brock Lesnar. It's apparent 'The Predator' doesn't have much use for him. What is interesting is how Frye insinuates that Mir and Couture threw their fights against the pro wrestling star. It's true the UFC was building Lesnar and poured a lot of money into him to build him up but I really doubt they had the bouts rigged.
Frye always shoots straight from the hip and seldom sugar coats anything. His big mouth is what has endured him to fans but also is what got him blackballed by the UFC brass.
"He flexed and I said, 'Man, you see how big his back is?' To see a guy who's six-four and that thick, and long muscles on top of that, athletically moving, I was impressed. It's funny how things hit you. I was like, 'I know why he got the tattoo! It was to take everybody's mind off the fact that he has boobs.' You know they kind of hang, when he jumps, they bounce up and down. So I thought, 'Oh, it's a diversion. Look at my dumb tattoo so you can keep your mind off my very feminine chest muscles.'"
Frank Mir loves to bash Brock Lesnar. Ever since the two men first stepped into the octagon several years ago and Mir walked away with the win the two have been rivals. In the new UFC TV show 'Fighter's Cut' Mir talks about Lesnar's boobs and how he got a tattoo to draw attention away from them.
Too bad we will never get to see Mir-Lesnar 3. Those guys really hated each other and it was always fun when they got it on. Lesnar eventually evened the score with Mir at UFC 100 but with Brock back in the WWE you would have to think Mir would have to work out a deal with the McMahons to get a third bout.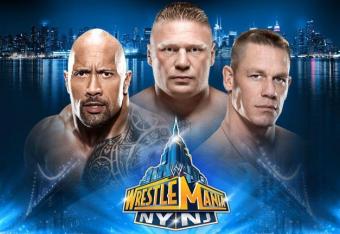 After attacking Vince McMahon a few weeks ago you knew something was going on with Brock Lesnar. Now it appears that the WWE was setting up a rematch for Lesnar and Triple H at Wrestlemania. Lesnar destroyed HHH at Summerslam last year and now Hunter will get his revenge.
McMahon is slated to make his return on Monday at RAW in a match with Paul Heyman, Lesnar's manager. Of course Lesnar will interfere and help out Heyman which in turn will bring out Triple H to defend McMahon setting up their match on the biggest show of the year.
It really sucks for wrestling fans that we won't get to see Lesnar face anyone new. A fresh opponent would be nice since we already saw the same match last summer. Lesnar will only wrestle in a few more matches for the promotion and they need to be smart with the matchups and put him in fresh bouts that the fans want to see. A match with CM Punk, Ryback, Sheamus, or the Miz would be a lot more exciting for casual fans who have already seen Lesnar and Triple H go at it before. A match with the "Undertaker would even be fun considering the infamous Ariel Helwani interview that was conducted with the Dead Man after Lesnar's loss to Cain Velasquez back in his UFC days.
But we are stuck with Triple H and Lesnar 2. Get ready.
WWE Superstar John Cena may have won the battle at WWE Extreme Rules last night in Chicago but it looks like Brock Lesnar won the war. Lesnar pummeled Cena for most of the match but Cena battled back and pinned the former UFC heavyweight champ after hitting him with a steel chain wrapped around his fists and then giving him the FU, his finishing move.
Cena teased he was leaving the WWE for a while so perhaps he will be making a movie while he is gone.
Former UFC heavyweight champ Brock Lesnar returned to the WWE earlier this month after Wrestlemania. Last night on RAW Lesnar finally revealed why he came back to the promotion.
"I'm not a superstar, I'm an ass kicker. I am Brock Lesnar, that's it. I left the WWE, everybody thought, here's a guy, there's no way in hell he's gonna make it in the UFC, but I climbed that mountain and became UFC Heavyweight Champion of the world and I proved everybody wrong.

"Why did I come back to the WWE? This isn't a feel-good moment. This isn't 'Oh I miss coming through the curtain, I miss all the fans.' At the end of the day, I don't care about anybody but Brock Lesnar. For me this is strictly business. We need a guy to legitimize this company and Brock Lesnar is that guy.

"We're tired of John Cena's bullcrap. John Cena is not the real guy. The only reason John is in the spot that he's in is because I left. If I was still around for the last eight years, John Cena's the guy that'd be carrying my bags into the building. There's nothing about Brock Lesnar that's fake. It was very evident last week when I took John Cena down and busted his mouth open. This is real.

"What's running through John Cena's mind? I don't give a crap what's running through his mind. What's more important is what's running down his leg. Piss. The guy's scared. Sh***ting his pants is what he's doing.

"This isn't a wrestling match on April 29, this is an 'Extreme Rules' match. I got one objective in mind: Utter freakin' chaos. Bring the pain to John Cena. I'm comin' for a fight John Cena. What makes me happy? Beatin' people up, that makes me happy."
Brock Lesnar came out in the opening segment on Monday Night RAW last night and got into a brawl with John Cena at the beginning of the show. Cena came out to confront Lesnar who attacked him last week at the end of RAW. Lesnar took Cena down and landed a big left hand that busted Cena open and bloodied his mouth. The two men will step into the ring at Extreme Rules to settle their differences.
The two men were restrained by the entire locker room. Each time they though they had them calmed down one of them would break away and beat on the other for a second until they were restrained again.
The internet has been buzzing all week about the former UFC heavyweight champ and he didn't disappoint as he played the hell role that he always seemed to embrace.
Former UFC heavyweight champ Brock Lesnar made his return to the WWE last Monday on RAW. Fans have been wondering when he would appear in his first match and according to the Allstate Arena in Chicago Lesnar will be at the next WWE pay per view, Extreme Rules.
"Brock Lesnar has returned to WWE for the first time in eight years and he will be live in Chicago! See the former two-time WWE champion, Brock Lesnar…for the first time in eight years for the Extreme Rules Pay-Per-View. It's a night of no limits.No boundries. Anything goes when the superstars of Raw and Smackdown take over Allstate Arena for WWE Extreme Rules Pay-Per-View!"
I doubt they have John Cena face Lesnar right away but I could be wrong.
Dana White is getting ready for the next season of TUF in Las Vegas so hopefully we will get a lot of good stuff this week.
I always feel bad for the guys who lose at the UFC events only to come to the back to get a camera in their face. It's weird seeing Jon Fitch after a loss. He has been laying low since his first round KO at UFC 141 and this video is the first we've seen of him.
We didn't see much of Brock Lesnar but we did get to see him walk to the dressing room one last time after he retired after his loss to Alistair Overeem.