Archive for the 'Bellator' Category
Quinton "Rampage" Jackson, the mixed martial arts icon and action-movie star has agreed to a monumental, multi-year partnership with Bellator MMA, TNA Wrestling and Spike TV as it was jointly announced today by Bjorn Rebney, Bellator CEO, Kevin Kay, Spike TV President, and Dixie Carter, TNA Wrestling President. The landmark partnership includes Jackson competing in Bellator MMA, along with joining the superstars of TNA's "Impact Wrestling," which includes fellow Bellator fighter "King Mo" Lawal. Spike TV will also create a special reality series featuring Rampage that will lead into his debut with Bellator, as well as other entertainment initiatives.
"Rampage is a true superstar both inside and outside the MMA cage" Bellator CEO & Chairman Bjorn Rebney said. "The partnership that we've created with Quinton is unlike anything that's ever been done in the sports & entertainment arena and Rampage is the perfect athlete/entertainer to carry it off."
"We are thrilled to create this opportunity for one of the greatest athletes and personalities in MMA," said Kevin Kay, Spike TV President. "Rampage is a proven ratings driver who brings incredible star power to both Bellator and TNA."
"Rampage is one of the best known MMA fighters competing today," said Carter. "He is a true cross-over star and his talent, big personality and popularity among a wide range of fans make him an extraordinary fit for our company,"
Jackson (32-11) joins Bellator as a former Pride and UFC champion, having last fought on Spike TV in September 2007, in a fight vs. Dan Henderson that drew nearly 6 million viewers, making it one of the most watched fights in the sport's history. In 2009, Jackson served as a coach on Spike's "The Ultimate Fighter: Heavyweights," the highest-rated season by far in franchise history, delivering over 3 million viewers per week. Rampage joins a Bellator Light Heavyweight division that features "King Mo", Renato "Babalu" Sobral, Emanuel Newton, Attila Vegh and Vladimir Matyushenko.
The charismatic fighter from Memphis, TN began his professional MMA career in 1999 and established his legacy across the globe through epic battles with MMA titans including Wanderlei Silva, Chuck Liddell, Jon Jones and Dan Henderson among others.
More information regarding this signing will be made available at Wednesday's press conference. Details on the press conference will be released shortly.
With a division already boasting the likes of Ben Askren, Paul Daley, Douglas Lima, Ben Saunders, Andrey Koreshkov and Karl Amoussou, Matt Riddle knows he will be swimming in "Deep Waters" when he enters the Bellator Welterweight Tournament this Fall as Bellator has signed a long-term promotional agreement with the controversial Pennsylvania native.
Riddle joins Bellator coming off four straight victories with the UFC, but was recently released as he failed his post-fight drug test after his victory over Che Mills. Known for his strong wrestling and Jiu-Jitsu background along with a stifling takedown defense, Riddle is ready to challenge himself against the best in the world inside the Bellator cage.
"I had so many options after I left the UFC, but knowing that I was able to compete in a tournament against guys like Paul Daley, Ben Saunders, and Douglas Lima, signing with Bellator was an easy decision," Riddle said. "This division is just so stacked, and being able to fight in a tournament makes it even better. Bellator is doing a lot of great things right now, and I want to be a part of it."
Bellator CEO & Chairman Bjorn Rebney understands some of the risks involved with signing Riddle, but after discussions with Riddle, Rebney is confident the 27 year old welterweight is in the right place to impact the welterweight division.
Read the rest of this entry »
Some of the top welterweights in the country will be featured on Fight Master:Bellator MMA when it debuts next month on Spike TV. Some of the top prospects in the promotion such as Andy Uhrich and Joe Williams will have a chance to win 100 grand and a shot at the Bellator tournament if they can run the table on the show. Veteran Joe Riggs also made the show and it will be interesting to see how the former UFC welterweight title challenger fares against younger talent in the tournament.
Marcus "Lelo" Aurelio
Age: 26
Vancouver, British Columbia, Canada
Nick Barnes
Age: 22
Record: 5-0
San Diego, CA, USA
Eric Bradley
Age: 31
Las Vegas, NV , USA
Mike Bronzoulis
Age: 34
Houston, TX, USA
Frank Carrillo
Age: 29
Miami, FL, USA
Darryl Cobb
Age: 32
East St. Louis, MO, USA
Christopher Curtis
Age: 25
Cincinnati, OH, USA
Evan Cutts
Age: 22
Dallas, TX, USA
Mike Dubois
Age: 30
Thomasville, GA, USA
Tom Gallicchio
Age: 26
Howell, NJ, USA
Ismael Gonzalez
Age: 32
Los Angeles, CA, USA
Gareth Joseph
Age: 28
San Diego, CA, USA
Chris Lozano
Age: 30
Cleveland, OH, USA
AJ Matthews
Age: 24
Carlsbad, CA, USA
Rob Mills
Age: 35
Newcastle, United Kingdom
Steve Montgomery
Age: 22
Florence, SC, USA
Chip Moraza-Pollard
Age: 24
Plymouth, MA, USA
Brett Nakamura
Age: 30
Maui, HI, USA
Jason Norwood
Age: 28
Fort Hood, TX, USA
Dom O'Grady
Age: 31
Detroit, MI , USA
Jacob Ortiz
Age: 31
San Manuel, AZ, USA
Josh Quayhagen
Age: 26
Lake Charles, LA, USA
Joe Riggs
Age: 30
Phoenix, AZ, USA
Eric Scallan
Age: 27
Lafayette, LA, USA
Cristiano Souza
Age: 30
Salvador, Bahia, Brazil
Tim Welch
Age: 22
Great Falls, MT, USA
Brendan Tierney
Age: 37
Queens, NY, USA
Bryan Travers
Age: 29
Bakersfield, CA, USA
Andy Uhrich
Age: 27
Gering, NE, USA
Cole Williams
Age: 30
Darian, WI, USA
Joe Williams
Age: 27
Tustin, CA, USA
Artenas Young
Age: 32
Houston, TX, USA
After delivering a dramatic and dominating submission victory in his first title defense, top ranked Bellator Lightweight Champion Michael Chandler will once again put his title on the line as Bellator MMA returns to WinStar World Casino in Thackerville, Oklahoma Wednesday, June 19th for the start of the Bellator MMA Summer Series live on Spike TV.
The event will broadcast LIVE starting at 6 p.m. CST on Spike. The preliminary card will be streamed LIVE and FREE on Spike.com starting at 5:30 p.m. EST. Tickets for the event are on sale now and can be purchased at Ticketmaster.com or by visiting the WinStar World Casino Box Office, with tickets starting at just $45 dollars.
Only 27, Chandler holds impressive victories over Eddie Alvarez, Rick Hawn, Akihiro Gono and Patricky Pitbull while sporting a spotless 11-0 record that has catapulted the Alliance MMA product into Top 3 rankings across the MMA landscape.
"I'm excited to get back in the cage and defend the belt against a tough guy like Jansen," Chandler said. "He's proven to be a very tough and durable competitor. My plan is the same as every fight, which is to show up new and improved and collect another dominant finish for the fans."
Jansen enters the fight riding a six fight win streak that includes a dominating Bellator Lightweight Tournament run with victories over Brazilian Jiu-Jitsu black belt Ricardo Tirloni, as well as a Finals win over Polish phenom Marcin Held. With the Oregon native owning an established submission pedigree and the resilience to have never been finished inside the cage, Jansen presents a unique set of challenges for Chandler on June 19th.
"I really want this fight to be an absolute grind and make Mike as uncomfortable as possible inside that cage," Jansen said. "I've been known in my career to really be able to weather the storm and I really feel like I get stronger inside the cage as the fight goes on, and I'm really looking forward to having that full 25 minutes to work with and take this fight in deep waters. This is just an incredible opportunity for me and would a huge validation on my career to become a Bellator World Champion."
Know across MMA as one of the top light heavyweights in the world, King Mo returns and will begin his quest to claim the Bellator Light Heavyweight Title. No stranger to WinStar, Mo had the crowd on its feet last January as he delivered a vicious knockout in opening round action, and will be looking for a similar performance against Seth "The Silverback" Petruzelli.
"Seth has been in this game for a long time and has beaten guys like Kimbo, Ricco Rodriguez and Dan Severn so this fight is going to be tough, but I've been working my ass off in the gym with Jeff Mayweather and my team and I'm ready to get another win under my belt," Mo said. "Point blank, I'm looking to deliver a straight Mortal Kombat style fatality to Seth."
Decorated MMA legend Renato "Babalu" Sobral will also make his return to the Bellator cage as the imposing Brazilian looks to punch his ticket to the Bellator Light Heavyweight Finals with a victory over Tennessee's own Jacob Noe. After both men had their first taste of Bellator Tournament action last season, expectations have risen for both competitors.
"God has blessed me with the opportunity to fight again and consequently has cursed my opponents," Babalu stated.
After nearly two years away from the cage, the always exciting and controversial War Machine will be back in action in front of a raucous WinStar crowd. Injuries and legal troubles have delayed the Bellator debut for War Machine but the highly skilled welterweight has finally put the past behind him and is ready to show the MMA world what it has been missing.
Read the rest of this entry »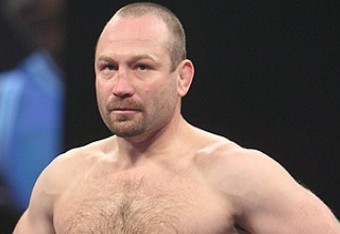 After getting finished by two of the UFC's top light heavyweights Vladimir Matyushenko has signed with Bellator and will end up competing in their 205 division and with a win could wind up in their tournament. The promotion sent out a press release today.
At 42 years old, Vladimir Matyushenko has seen it all. From earning three submission victories in one night, to taking down opponents like Antônio "Little Nog" Nogueira, Travis Wiuff, Pedro Rizzo and Jason Lambert. Armed with one of the best wrestling backgrounds in the sport, "The Janitor" has signed with Bellator MMA, and will debut soon live on Spike TV.
"Vladimir is a fighter I've watched for years. He's an exciting fighter with an incredible wrestling background and a great pedigree in our sport. When the opportunity presented itself and we had the chance to have him join the Bellator family it was a very easy decision to make," Bellator Chairman & CEO Bjorn Rebney said. "With our Champion Attila Vegh sitting at the top of the mountain right now, and with guys like Emanuel Newton, Mikhail Zayats and King Mo coming on strong, the light heavyweight division for Bellator continues to evolve and Vladimir should fit in perfectly to that mix."
"Bellator is one of the biggest promotions in the world, and to be associated with them is an honor," Matyushenko said. "I am optimistic and excited to work with Bellator. The amount of respect and honor I felt from Bjorn and the entire Bellator team was tremendous, and getting into the Bellator cage and cementing my legacy as a Bellator World Champion is the only thing on my mind."
Matyushenko will make his promotional debut live on Spike in a non-tournament fight that will be announced shortly.
The final results are in for Bellator MMA live from Revel in Atlantic City. The event featured the Bellator Middleweight Tournament Championship where Doug Marshall defeated Brett Cooper with an explosive TKO (punches) in the first round. Frodo Khasbulaev won the Bellator Lightweight Tournament Championship by unanimous decision (30-27, 30-27, 30-27) in a tough battle against Mike Richman. Marshall and Khasbulaev each earned a $100,000 tournament prize and a guaranteed title shot. The night also showcased the Featherweight World Championship with Pat Curran defending his title, beating Shahbulat Shamhalaev via submission (guillotine choke) in the first round.
Featherweight World Title Fight: Pat Curran defeats Shahbulat Shamhalaev via submission (guillotine choke) – Round 1, 2:38.
Pat Curran
"Thanks for Shahbulat and taking the fight on short notice. This was a big opportunity for him and I thank him for stepping up to the fight. Thank you Bjorn and Bellator for keeping me busy in the cage and continuing to allow me to develop as a fighter."
Shahbulat Shamhalaev
"I am sorry Bellator, just this one time. I am sorry for disappointing fans around the world who were cheering for. I am going to get back in the gym and work on it and I will be back."
Featherweight Tournament Final Fight: Frodo Khasbulaev defeats Mike Richman via unanimous decision (30-27, 30-27,30-27).
Frodo Khasbulaev
"First of all I thank all of my fans and who were rooting for me. Thank you Bjorn and Bellator for giving me this chance. I want to thank my manager, my team and my coaches for all of their work in preparing for this fight. Also, I want to thank my opponent for putting on a good show today."
Mike Richman
"Obviously tonight didn't go as I had planned. I thought the fight was a lot closer than the decision. It was a super tough fight and there were a couple movements and positioning that kept me away from winning the fight. Thank you Bellator and my fans for cheering for me and hopefully I'll be back fighting again soon."
Middleweight Tournament Final Fight: Doug Marshall defeats Brett Cooper via TKO (punches) – Round 1, 3:39.
Doug Marshall
"Thank you Bjorn and Bellator for having me. When I entered this tournament I was the dark horse and now I am $100,000 richer and I have a title shot coming. I am really looking forward to the fight against Alexander. Thank you very much for this opportunity."
Welterweight Feature Fight: Rick Hawn defeats Karo Parisyan via KO (strikes) – Round 2, 1:55.
Rick Hawn
"Thank you Karo for taking this fight and it has been a long time coming. I respect him as a fighter and this wasn't an easy fight. I am happy to get the win and I wish him the best of luck in the future."
Karo Parisyan
"I don't want to make any excuses. This is the fourth time Bellator has given me a shot. I felt obligated to take the fight, but I felt like I was in the right place to take it. He is a great competitor and I respect him as an athlete. Hopefully I will be back and I can prove myself one more time."
Lyman Good defeats Dante Rivera via unanimous decision (29-28, 30-27,30-27).
Sam Oropeza defeats Shedrick Goodridge via TKO (strikes) – Round 2, 4:22.
Tom DeBlass defeats Carlos Brooks via doctor stoppage – Round 2, 5:00.
Phillipe Nover defeats Darrell Horcher via unanimous decision (29-28,30-27,30-27).
Jimmie Rivera defeats Brian Kelleher via unanimous decision (30-27, 29-28,29-28).
Will Martinez defeats Brent Hess via KO (punches) – Round 1, 4:15.
Kevin Roddy defeats Brylan Van Artsdalen via submission (armbar) – Round 2, 1:04.
Liam McGeary defeats Anton Talamantes via TKO (elbows and punches) – Round 1, 1:18.
The final results are in for Bellator MMA live from the USF Sundome in Tampa, Florida. The night showcased the Lightweight Tournament Final with David Rickels finishing Saad Awad via TKO in the second round. The event also featured the Light Heavyweight Tournament Final as Emanuel Newton defeated Mikhail Zayats in a unanimous decision. Both winners earned a $100,000 tournament prize and a guaranteed title shot.
Light Heavyweight Tournament Final: Emanuel Newton defeats Mikhail Zayats via unanimous decision (29-28, 29-28, 29-28).
Emanuel Newton:
Thank you Bjorn, Spike and all of the Bellator staff for being behind me. He is a tough opponent and I went out there and put on my best performance. I know I can get better and I have to get better and I am looking forward to my next fight.
Mikhail Zayats:
I want to thank everyone who came out today. I want to thank Bjorn and all of my fans in Russia and all over the world. I was a little upset because I had an injury two days ago and I tried to postpone my fight. Newton is a great fighter and I congratulate him on a good fight.
Lightweight Tournament Final: David Rickels defeats Saad Awad via TKO (strikes) – Round 2, 5:00
David Rickels
My hat is off to Awad, he is a great fighter. I am very happy and really excited. I think I've showcased a lot of my skills and I believe I have a lot of the facets of the game. I am really looking forward to seeing who I will fight in the championship and I want that belt around my waist.
Saad Awad
Thank you to everyone for supporting me. It didn't go my way tonight. I broke my hand in the first round and sorry I had to wrestle for two rounds. I really didn't want to do that. He caught me in the second round and there is nothing I can do about it, congrats.
Welterweight Qualifier Fight: Luis Melo defeats Trey Houston via submission (arm-triangle choke) – R3, 1:09
Luis Melo
I would like to thank god for the opportunity and Bellator and Bjorn for believing in my potential and bringing me here. I have been fighting for over 10 years and I am happy to have the opportunity to fight here and represent in my big my debut. I will always come to fight and I will always come to entertain you guys.
Trey Houston
Thank you for the opportunity. It didn't go my way tonight. He was a very good opponent and has been doing this longer than I knew what the sport was. I hope I can come back because I am still learning a lot and I am improving quickly.
Bantamweight Qualifier Fight: Rodrigo Lima defeats Ronnie Mann via unanimous decision (30-27, 30-27, 30-27)
Rodrigo Lima
First of all thank you for the opportunity to fight with Bellator. I took the fight in 22 days and I was really focused on that and I put my heart in it. Congrats to Ronnie and the chance to fight against him.
Ronnie Mann
Thank you to Bellator and Bjorn for having me. All I can say is that I have more to offer if I get the opportunity again.
Welterweight Feature Fight: Julien Williams defeats Kenny Moss via submission (guillotine-choke) – Round 1, 3:19
Heavyweight Feature Fight: Augusto Sakai defeats Rob Horton via TKO (strikes) – Round 2, 4:01
Women's Feature Fight: Jessica Aguilar defeats Patricia Vidonic via decision (29-28, 28-29, 29-28)
Featherweight Feature Fight: Joe Taimanglo defeats Ronnie Rogers via submission (north-south choke) – Round 2, 0:33
Lightweight Feature Fight: Edson Berto defeats Bruno Carvalho via submission (heel hook) – Round 1, 1:27
Catchweight Feature Fight (157 lbs): Tony Fryklund vs. Patrick Cenoble ended in a draw (29-27, 27-29, 28-28)
Women's Feature Fight: Felice Herrig defeats Heather Clark via decision (29-28, 28-29, 29-28)
I think it's pretty obvious that Felice Herrig and Heather Clark are ready to get it on at Bellator 94 tonight. At the weigh-ins Herrig and Clark nearly got into it until they were broken up by Bjorn Rebney and Sam Caplan. Both women had been competing for the XFC but are now getting their shot with Bellator on tonight's undercard.
Herrig came out dressed as Superwoman. She really seems to relish in the attention she gets because of her good looks. It seems like she does something every fight to put herself out there and a win tonight would be pretty big for her career.
The weigh-in and pre-fight press conference for Bellator MMA will take place Wednesday at 5:00 P.M. EST at the Baxter Lounge at Androscoggin Colisee, located at 190 Birch St. Lewiston, ME 04240. Bellator MMA will take place from The Androscoggin Bank Colisee on Thursday, March 21st with the first fight taking place at 8 p.m. EST and streaming LIVE on Spike.com. The televised portion of the night will begin at 10 p.m. EST and will air LIVE on Spike TV.
All participants from Thursday night's event will be on hand, including MMA veteran and Maine native Marcus Davis and the Bellator debut of Kickboxing World Champion, Michael Page.
Eric Prindle vs. Brett Rogers was originally scheduled to appear on the card, but Prindle was removed from the event after suffering an injury that forced the heavyweight off the card.
The event will be emceed by Bellator cage announcer Michael C. Williams and Bellator color commentator Jimmy Smith.
As always the weigh-in is open to both the public and media.
MAIN CARD:
Lightweight Tournament Final Fight: Marcin Held vs. Dave Jensen
Heavyweight Feature Fight: Ryan Martinez vs. Travis Wiuff
Welterweight Feature Fight: Waachiim Spiritwolf vs. Marcus Davis
PRELIMINARY CARD:
Middleweight Feature Fight: Dave Vitkay vs. Jesse Peterson
Featherweight Feature Fight: Vince Murdock vs. John Raio
Light Heavyweight Feature Fight: Brent Dillingham vs. Mike Mucitelli
Middleweight Feature Fight: Pierre Pierry vs. Joe Pacheco
Welterweight Feature Fight: Ryan Sanders vs. Michael Page
Middleweight Feature Fight: Jason Butcher vs. Jack Hermansson
Lightweight Feature Fight: Jesse Erickson vs. Jon Lemke
Last night Emanuel Newton was a pretty big knockout in the Bellator light heavyweight tournament and was a mere afterthought when the brackets were announced but last night after shocking the world he is one win away from a title shot. King Mo was the odds on favorite to win the tournament and was likely on his way to becoming the face of the promotion but he will have to start from scratch after last nights defeat.
Mo is a cross over star who will be featured in TNA as well as Bellator. He is a former Strikeforce light heavyweight champion who had a lot of hype behind him. It will be interesting to see how TNA uses him after last night's upset loss.