Archive for February, 2013
One of the most exciting fighters on the UFC's roster was released yesterday after getting popped for weed. It wouldn't be so bad but it's his second time in his last three fights in the octagon. The UFC released a statement earlier today.
Matthew Riddle tested positive for marijuana metabolites following his bout at UFC on FUEL TV 7 in London, England on February 16, 2013. This is Riddle's second failed drug test for marijuana within the past seven months. Riddle previously failed a post-fight drug test due to marijuana following his UFC 149 victory over Chris Clements.

As such, the UFC organization is exercising its right to terminate Riddle for breach of his obligations under his Promotional Agreement as well as the UFC Fighter Conduct Policy. The UFC organization has a strict, consistent policy against the use of any illegal and/or performance-enhancing drugs, stimulants or masking agents. The outcome of the bout against Che Mills was changed to a no contest and the results of the positive test will be reported to the official Association of Boxing Commissions MMA record-keeper.
It's very sad because Riddle actually has a medical marijuana card but the UFC is pretty strict about their drug policy.
At UFC 159 Alan Belcher and Michael Bisping will meet in the octagon to determine who gets one step closer to a title shot. But now Belcher has upped the stakes by throwing out a challenge to Bisping. If 'The Count' can stop Belcher in the first round he will get the Union Jack tattooed on his chest. But 'The Talent' wants Bisping to get Johnny Cash tatted on his arm should it go the other way.
"You can take me out in round one? I don't think so. If you can take me out in round one, I will get the British flag tattooed on my chest. That, I promise. I make that promise to the fans right now. You better get your ass to training instead of making little powder puff movies. Get in the gym and start training. At least try to make it past the first minute."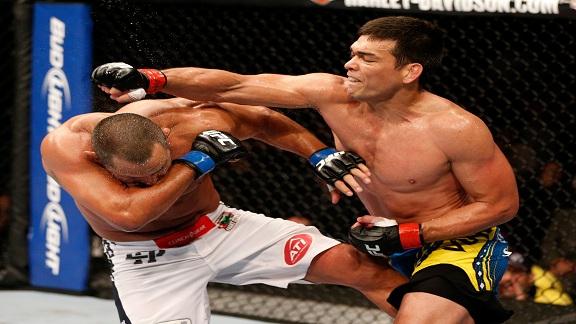 At UFC 157 Lyoto Machida came out on top of a very close fight against Dan Henderson. Machida won a split decision but Hendo insists he won the fight.
"Normally that's not my type of fight, a little bit boring. He did a good job moving around and was real hard to hit. I needed to stay in his face and cut him off a little bit better and make him fight. He did a good job not fighting. I won the fight, but not officially. I hit him whenever he wanted to fight. He ran away most of the time."
But if you as Machida there was never any doubt about how it should've been judged and he won, hands down.
"I felt that I won the fight. Because in my score, I kneed him many times. I kicked him. I took him down. In the third round, he didn't take me down. I slipped, and he took advantage of this. I felt I won the three rounds, and I was very surprised by the split decision. It was my game plan to keep the fight standing up and to avoid the ground position and his right hands. Look at my face. Nothing. [He kicked me] just a little bit in the legs, but I can put ice on that and it will go away soon. I can make my distance, and I kick hard. I didn't let him grab me, and I [avoided] a lot of wrestling."
Big Show cut a promo on Texas A&M's head football coach last night after the WWE presented Kevin Sumlin with a honorary title. Show was scheduled to face Alberto Del Rio who was already in the ring. The largest wrestler on the WWE's roster made his way to the ring to run down Sumlin and A&M to get some cheap heel heat. It's likely the promotion will use the video of the incident on RAW since the show will be shot in Dallas. Sumlin is a big WWE fan and you know he had to enjoy the experience.
Show is the guy who lost the belt to Del Rio and right now he is without an opponent for Wrestlemania 29.
WWE announced today that Donald J. Trump will be a celebrity inductee into the WWE Hall of Fame on Saturday, April 6, 2013 at Madison Square Garden. Mr. Trump has been a part of WWE's most popular events and storylines dating back to WrestleMania® IV in 1988 and WrestleMania V in 1989 when he hosted the pop-culture extravaganzas in Atlantic City. In 2009, Mr. Trump "purchased" WWE and then "resold" WWE back to Mr. McMahon a week later for double the price. In his most famous WWE storyline, Mr. Trump challenged Mr. McMahon to a "Battle of the Billionaires" match at WrestleMania XXIII, resulting in an all-time record for pay-per-view buys and Mr. McMahon's head being shaved at the hands of "The Donald."
"It was literally the thrill of a lifetime performing in front of 80,000 enthusiastic fans during the 'Battle of the Billionaires' match at WrestleMania XXIII," said Donald Trump, Chairman and President, The Trump Organization. "I've always enjoyed and respected WWE's brand of entertainment and look forward to the ceremony in my hometown at Madison Square Garden."
"Donald is a global icon whose status brought an unmatched level of publicity and grandeur to WWE," said Vince McMahon, WWE Chairman and CEO.
Read the rest of this entry »
'Rowdy' Ronda Rousey never ceases to amaze me. When she was in a lot of trouble early in the fight the UFC women's champ was worried about her bra and not her opponent who had her back and had a pretty tight neck crank at that moment. Rousey ended up with another armbar win in the first round. She has never had a fight go out of the first round and is a perfect 6-0.
Dana White takes us behind the scenes of UFC on FUEL TV 7 that took place last weekend. I really hate to see the guys after they lose. I feel pretty bad for them knowing they may get cut and are exposed to the world during a very vulnerable time. You can tell Che Mill is pretty disappointed. James Te Huna seemed to be having a good time.
After taking shots from Glenn Beck over their angle featuring Jack Swagger and Zeb Coulter the WWE fired back yesterday with a video featuring the two men breaking character and explaining the wrestling business to Glenn Beck in a video that went out by the wrestling promotion.
"Everything we do with our characters is designed to tell stories," Keown said. "Right now the story we are telling is that Zeb Colter and Jack Swagger are using the current, relevant, and topical story of immigration to target the WWE World Champion Alberto Del Rio, also a character played by my friend Jose Rodriguez. In our story, we are the antagonist and Alberto is the protagonist."

"Glen Beck, you recently referred to WWE as stupid wrestling people. Really, Glenn? Seriously, really? By implication, you are referring to the 14 million stupid wrestling fans who are watching our shows every week in America and our global audience in over 145 countries. 20 percent of our audience is Hispanic. 22 percent is African American. 35 percent is female. And we equally reach all major age groups including 25 percent over popularity."
Sorry Alexander Gustafsson, despite being told he will have the next title shot UFC President Dana White backpedaled a little and said that winner of Dan Henderson vs. Lyoto Machida in the co-main event at UFC 157 will get the next crack at the UFC light heavyweight champion. Henderson was in line to face Jones last year but backed out due to injury a week before the fight which ultimately led to the events cancellation once an opponent couldn't be found for the prickly Jones.
Jones will face Chael Sonnen this Spring of the title and it would be a huge upset should Sonnen walk away with the title. A Sonnen vs. Henderson fight would be very intriguing considering both men are training partners. But Sonnen hasn't fought at 205 in years and a win is highly unlikely.
A former champ himself, Machida has already fought Jones for the belt and was submitted in the second round by the champ in 2011.
While the Zuffa may be trimming the fat as they cut fighters with recent losses the man sitting atop the heavyweight division just got a brand new deal according to UFC President Dana White.
"He deserved it. We always try to do the right thing. I have three fights left with Cain Velasquez. We just signed a new eight-fight deal with Cain. I didn't have to do that.
Velasquez is coming off a dominant win over Junior Dos Santos to capture the UFC heavyweight title in December. He will face Antonio Silva in a rematch on Memorial Day weekend after 'Bigfoot's' come from behind upset win over Alistair Overeem earlier this month in Las Vegas.