WWE Superstar John Cena may have won the battle at WWE Extreme Rules last night in Chicago but it looks like Brock Lesnar won the war. Lesnar pummeled Cena for most of the match but Cena battled back and pinned the former UFC heavyweight champ after hitting him with a steel chain wrapped around his fists and then giving him the FU, his finishing move.
Cena teased he was leaving the WWE for a while so perhaps he will be making a movie while he is gone.
Once again, UFC ON FOX invades primetime with a two-hour quadruple-header thisSaturday, May 5 (8:00-10:00 PM ET) live from Izod Center in East Rutherford, NJ.
The night's main event features two of the most exciting 155-pounders in the world as lightweight contenders Nate Diaz (15-7-0) and Jim Miller (21-3-0) go five rounds to get one step closer to a coveted title shot. The remaining main card bouts include welterweight contenders Josh Koscheck (19-5-0) vs. Johny Hendricks (12-1-0), middleweights Rousimar Palhares (23-3-0) vs. Alan Belcher (16-5-0) and heavyweights Pat Barry (7-4-0) vs. Lavar Johnson (16-5-0). Koscheck and Hendricks are both dominant wrestlers with one-punch KO power. Palhares is the middleweight division's most-feared submission ace, while Belcher is considered a rising star at 185-pounds. Barry and Johnson are two of the most lethal strikers setting up an explosive heavyweight fight. This is the UFC's first trip to East Rutherford, NJ since 2001 when Tito Ortiz defeated Elvin Sinosic to become the UFC light heavyweight champion.
FOX Sports' Curt Menefee kicks off the night, hosting pre- and postfight coverage alongside UFC Hall of Famer Randy Couture and UFC middleweight fighter Brian Stann. Couture is the only UFC fighter to ever win the UFC heavyweight and light heavyweight titles. He proved age was not an issue when he became the oldest man ever to win a UFC title at the age of 43. Stann is coming off a knockout win over Alessio Sakara earlier this month in Sweden. The former Marine is quickly becoming a fan favorite for both his work inside and out of the Octagon. An impressive performance as a guest analyst on FUEL TV in February led to an outpouring of fan support and a spot on the UFC on FOX desk Saturday night. Once the battles begin, UFC announcers Joe Rogan and Mike Goldberg have the call.
Action kicks off Friday, May 4 (4:00 PM ET) with the live UFC Weigh-In on FUEL TV. Karyn Bryant hosts the show from FUEL TV's Los Angeles studios, while UFC veteran Kenny Florian and current UFC Lightweight Champion Benson Henderson offer analysis. Saturday, May 5 (5:00 PM ET), FUEL TV begins live coverage of the night's undercards, live from East Rutherford, New Jersey. UFC Prelims on FUEL TV are hosted by Rogan and Goldberg. FUEL TV wraps coverage of the main event with the live UFC Postfight Show on FUEL TV immediately following UFC on FOX Saturday, May 5 (10:00 PM ET). Jay Glazer leads the one-hour recap from FUEL TV's Los Angeles studios, with Florian and Henderson's analysis. Ariel Helwani interviews fighters backstage after the bout.
FOX Deportes simulcasts the prelims and main card fights on Saturday, May 5 beginning at 5:00 PM ET.
Read the rest of this entry »
UFC lightweight contender Clay Guida spoke out on Alistair Overeem's situation with MMAWeekly.com recently. Guida and Overeem are on opposite sides of the UFC divisions but he does have make some good points.
"Yeah, Alistair not knowing that there is testosterone in his vitamins, is like me not knowing what kind of conditioner I'm putting in my hair. I'm not going to put the complete blame on him, I'm going to put it on his coaches, and, maybe not his team necessarily, but his trainer and this and that and whoever maybe slipped him a Mickey or whatever you want to call it. I'm a fan of the guy, don't get me wrong, but, I think they had plans elsewhere or whatever it may be, but, it's a bummer that the main event in one of the biggest cards of the year is going to be kind of tampered with, just because you know, they got careless and maybe they didn't have all the belief in themselves, so. I just stick with my regular stuff. The fruits and vegetables, fish oils, glucose and stuff like that you know? I've never been big on supplements on stuff like that you know? I just take natural stuff."
Bellator middleweight champion Hector Lombard will top contender Brian Stann in August in his octagon debut according to a tweet from Ariel Helwani.
In response to Lombard vs. Stann. RT @danawhite: @scottyp0806 yupa
Lombard left Bellator for the greener pastures of the UFC where he will be thrown into the mix right away. Should he get past Stann I would imagine he would be the #1 contender and face the winner of Chael Sonnen vs. Anderson Silva. Michael Bisping is also in the mix but he will have to get through Tim Boetsch to stay in title contention.
Now that the UFC scrapped their plans for Brazil the promotion is going full throttle with UFC 148 which will feature Chael Sonnen vs. Anderson Silva and Dominick Cruz vs. Urijah Faber. This will be an epic card July 4th weekend and with Sonnen vs. Silva the UFC has the biggest rematch it's put on in ages. The UFC was going to put Sonnen/Silva on in a soccer stadium in Brazil but due to a UN conference those plans have been scrapped and they will instead fight in Las Vegas.
Bellator Fighting Championships makes its return to the Garden State on Friday, May 11 with a talent-filled fight card from Caesars Atlantic City.
The night will feature a Bellator Featherweight Tournament Final fight between Marlon Sandro and Daniel Straus, with the winner earning a guaranteed title shot for the Bellator Featherweight World Championship.
The next finalist in the Season 6 Bantamweight Tournament will be decided as Marcos Galvao and Travis Marx square off in a semifinal bout. Additionally, Caesars Atlantic City will host the return of Seth "the Kimbo Killer" Petruzelli as he takes on MMA veteran Carmelo Marrero. Plus, it's the long-awaited rematch between Marius "The Whitemare" Zaromski vs. Waachiim Spiritwolf.
Bellator 68 will also feature a stacked undercard full of the area's top talent. Tickets for the Bellator 68 are on sale and are available through Ticketmaster.com or at the Caesars Box Office. Tickets are priced from $45-$125.
The event will broadcast LIVE starting at 8 p.m. EST on MTV2 and in commercial-free HD on EPIX. Doors open at 6:00 p.m. EST, with the first fight scheduled for 6:30 p.m. EST. The preliminary card, featuring some of the area's top local talent will be streamed LIVE and FREE around the world on Spike.com starting at 7 p.m. EST.
Bellator veteran Marcin Held will look for his fifth win in his last six bouts as he takes on New Jersey product Derrick Kennington. Held, a lightweight submission specialist, is coming off a razor thin split decision victory over Phillipe Nover at Bellator 59 and is looking to improve to 13-2.
Philadelphia's Jesus Martinez squares off against "The Burmese Python" Aung La Nsang in a catchweight bout of 175 pounds. Martinez, who last competed in a losing effort to Bellator Season 6 Tournament competitor Karl Amoussou, will meet Nsang who is making his promotional debut and brings an impressive submission arsenal with him into the cage.
Also on the card, New Jersey featherweight Jeff Lentz will take on submission fighter Eddie Fyvie in a 145-pound rematch that will surely have the Atlantic City faithful on their feet. Nearly three years ago, Lentz scored a devastating knockout in their first encounter and now Fyvie is looking to exact revenge when they battle at Caesars Atlantic City.
Bellator 68 will feature an exciting lightweight matchup as Bellator veteran Jacob Kirwan battles newcomer Don Carlos-Clauss. Kirwan will look to return to the form that saw him defeat Bellator Season 6 Lightweight Tournament competitor Rene Nazare last year while Carlos-Clauss will look to make a strong first impression.
A pair of Bellator veterans will clash as local favorite Claudio Ledesma challenges fellow bantamweight Anthony Leone in a 135-pound bout. Ledesma, who defeated Brian Kelleher at Bellator 54 last October, is looking to earn his second win with the promotion when he battles the New York native.
Rounding out the card will be Gregory Milliard taking on Francois Ambang. Coming off an impressive win at Bellator 59, Milliard returns to Atlantic City and will try and keep the momentum going against a tough Ambang.
Read the rest of this entry »
Former UFC heavyweight champ Brock Lesnar and John Cena made it official for Extreme Rules this Sunday on pay per view. The two men signed their contracts last night on RAW. Lesnar even got the GM John Laurinitis to give him a few extra perks before he signed his contract.
It will be interesting to see how they book the match. Everyone knows that Lesnar is a legit UFC fighter but Cena is the face of the promotion and has been carrying the banner for years. Cena lost at Wrestlemania in a high profile match and needs to win to stay on top. Lesnar needs to win to give the WWE credibility but you never know how they will book it.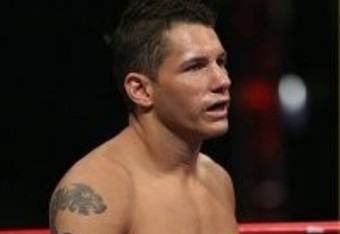 Apex Sports Agency (ASA) fighter Chris "The Menace" Clements overcame the dreaded first-time Octagon jitters to come out victorious against Keith Wisniewski at UFC 145 this past Saturday in Atlanta, Georgia.
UFC 145 was one of the biggest MMA events of the 2012 campaign, and Clements made a solid impression on fight fans. It was a hard-fought win for the Canada native, but he withstood Wisniewski's attack, utilized his impressive standup skills, and had his hand raised at the end via split-decision.
"I'm happy with the win, but not satisfied with my performance," said Clements. "I was too defensive with the wrestling, and I got a bit too wild with my striking.
"Keith is a really tough, durable guy. I knew he was going to be hard to finish," he added.
ASA CEO Jason Chambers said, "Chris is a tremendous striker, an exceptionally entertaining fighter, and a great new dad to boot! We are proud to have him in the Apex Sports Agency family, and we look forward to his next bout."
It was only the first decision of Clements' career, but with his first UFC win under his belt, "The Menace" is excited to move forward.
Read the rest of this entry »
The Maximum Fighting Championship is resurrecting a heavyweight division, and there's bigger way to do it than by signing world-ranked and Canada's top big man Tim "The Thrashing Machine" Hague.
Hague (13-5) has agreed to a multi-fight, exclusive deal with the Maximum Fighting Championship that will launch with a bout in the semi-main event of MFC 34: Brute Force on Friday, August 10 in his home town of Edmonton, Alberta.
"I'm really excited about signing with the MFC," said Hague. "There's no question that the MFC is the leader in Canadian mixed martial arts, and it has a great knack for getting big attention for its events and its fighters. That's one thing in my career that has been lacking wherever I've been before.
"And the production values of the MFC shows are second only to the UFC, and I'm very excited to be a part of that."
Hague has won three of his last four fights, and boasts seven career victories by way of knockout with four wins coming via submission. Of his 13 win, seven have come inside the first round including his most celebrated win to date – a first-round tapout via guillotine choke against Pat Barry. With verdicts over Travis Wiuff, Sherman Pendergarst, and Ruben Villareal on his resume, Hague is a great fit to restart the MFC's heavyweight ranks.
"This is a great match – we're eager to bring in new talent with great pedigrees, and Tim wants to fight on the biggest stage possible," said MFC Owner/President Mark Pavelich.
"It's true that Tim and I have had our differences in the past, but that has all been pushed aside in order for us to work together. Tim is excited to be a big part of the MFC, and I'm very pleased to have him on board."
Read the rest of this entry »
SHOWTIME Mixed Martial Arts (MMA) voice Mauro Ranallo, light heavyweight superstar "King Mo" Lawal and women's star Julie "Fireball" Kedzie will call the action cageside at the first-ever Invicta Fighting Championships all-women's professional MMA event, live on InvictaFC.com, from Memorial Hall in Kansas City, Kan. on Saturday, April 28.
Ranallo, the lead commentator for Strikeforce on Showtime as well as for Canada's The Score Fighting Series and a former commentator for Japan's Pride Fighting Championships, will serve as the play-by-play announcer during the live stream of the event.
"I have always been a huge advocate of female MMA and I am very excited to be a part of the inaugural Invicta show," said Ranallo. "The ladies have a history of stealing the show from the guys, so it's nice to see them get a show of their own."
Lawal is a former Strikeforce light heavyweight champion who burst onto the fight scene four years ago with four straight victories in Japan's World Victory Road MMA series and has since amassed a career record of 8-1 (1 NC). A former NCAA Division I All-American wrestler for Oklahoma State University, the 31-year-old has gained recognition for his technical knowledge of MMA and his meticulous attention to fighters' styles.
Read the rest of this entry »