Feared Dutch Striker Melvin Manhoef prepares to take on Deep Champion Yoshiyuki Nakanishi this weekend at ONE FC War of the Lions.
Originally scheduled to take on Babalu Sobral many feel that although not as well known in the western world, Nakanishi's all action style could make for an even better fight come the weekend. Melvin himself eagerly awaits the new matchup and is not disappointed in the rescheduled bout as he explains:
" No, I'm not disappointed. Of course I would have liked to fight him (Babalu) a lot, but who knows maybe in the future it will happen. I'm also excited to fight my new opponent. I know he's a strong complete fighter so it will be a hard fight."
With an astonishing 96% finishing ratio with 23 of his 24 wins coming via knockout or tko Melvin is still regarded as one of the most exciting fighters on the planet. Moving up to the light heavyweight division to take on the Japanese champion, Melvin can still be confident in the knowledge that he has knocked out opponents bigger than him in the past, including the likes of Mark Hunt and Ian Freeman. Far from fearing his bigger opponent he is relishing the opportunity to fight Nakanishi:
"I've fought bigger guys most of my career. Of course it's hard for me to fight the heavier guys since most of them are naturally heavier and taller than me, but I like the variation and the challenge!"
Deep champion Nakanishi has suggested he is willing to meet Melvin in the centre of the cage come event time although the Dutchman has his doubts:
"I really don't know if he will stand with me, but as with most of my opponents I think he'll prefer to take the fight to the ground".
Manhoef is excited to be a part of an excellent ONE FC card this weekend that is available completely free of charge in HD quality around the world:
"I know ONE FC are a young ambitious organization. They have a lot of great plans and I'm honored to be a part of it. I hope to fight many times for them and help them build the organization."
As far as a prediction for the bout Melvin is only sure of an exciting fight for the fans:
"It's always hard to predict the fight. The only thing I can tell you is that I'm ready and focused. I think it's going to be a hard explosive fight".
ONE FC War of the Lions will be streamed live and completely free on ONE FC's YouTube channel. Please head to http://www.onefc.com/ for complete details.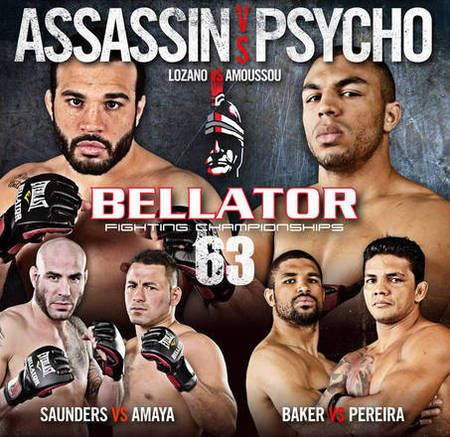 The quarterfinals of the Bellator Season 6 Welterweight Tournament have wrapped up as Karl Amoussou, Bryan Baker, David Rickels and Ben Saunders advanced to the semifinal round at Bellator 63 from the Mohegan Sun Arena in Uncasville, Connecticut LIVE on MTV2 and in HD on EPIX.
In the main event of the evening, the weeks of trash talking and bad blood finally boiled over as Chris Lozano and Karl Amoussou squared off inside the Bellator cage. The fight started with both men patiently waiting for the other to strike. The first significant blow was thrown by Amoussou, a head kick that opened up a cut on the head of "The Cleveland Assassin." Moving forward, Lozano took advantage of Amoussou being off balance and successfully secured a takedown. However, Amousssou showed his underrated ground game and sweeped Lozano, ending up in the full mount position. From there, Amoussou opened up with strikes to the head that caused Lozano to reach for his feet. Seizing the submission opportunity, Amoussou locked up a rear-naked choke that forced the submission of Lozano at 2:05 of the first round.
"You just saw the next tournament champion. I wanted to make a statement. This is what I've done," Amoussou said.
With the submission win, Karl Amoussou maked a successful welterweight debut and advances to the semifinal round of the Bellator Season Six Welterweight Tournament.
Read the rest of this entry »
Boxing legend Mike Tyson will be inducted into the WWE Hall of Fame Saturday night and in the mean time is hanging out with WWE Superstars in Miami. Today there was a golf tournament where the former champ got to hang out with WWE superstars such as Dolph Ziggler, The Miz, and Hornswaggle. Tyson played a small part in WWE history when he helped usher in the 'Attitude' Era when he helped Stone Cold Steve Austin defeat Shawn Michaels at Wrestlemania 14. It's doubtful Tyson will have a role this year but you never know what Vince McMahon is going to do especially at the biggest show of them all, Wrestlemania.
Could former UFC heavyweight champ Brock Lesnar appear at Wrestlemania 28 Sunday? Those in the know think there is a good chance. Wrestlemania will feature the epic dream match of John Cena vs. The Rock. A Lesnar vs. Cena match or Lesnar vs. Rocky match at Wrestlemania 29 could do a record number for Wrestlemania.
When asked by a writer for the AP about a potential match with Lesnar the Rock simply said, "I'm not saying a thing. I didn't say anything."
According to Dave Meltzer of the Wrestling Observer,
Regarding Brock Lesnar rumors for the weekend, the two sides have been talking in recent weeks, as was hinted in the Dwayne Johnson interview last week when Lesnar's name was brought up as a possible opponent for next year.
Dana White gave Lesnar his blessing last year to return to pro wrestling if he wanted. I guess it all comes down to how many 0s Vince McMahon puts on the check.
Ever since Nick Diaz got popped for marijuana after his loss to Carlos Condit last month MMA fans have been talking about weed in the sport. It's illegal and a banned substance even if you have a medical marijuana card like Diaz does. Diaz has tested positive in the past after he beat Gomi a few years ago.
Testosterone Replacement Therapy is legal for men who need it and have a doctor's note. Weed isn't and that's what fans are upset for. TRT has come to the forefront lately ever since Rampage Jackson admitted using it before his fight with Ryan Bader in Japan earlier this month.
MMA fans have been buzzing about a potential superfight between Georges St. Pierre and Anderson Silva for quite some time. Last year Dana White even talked about trying to put it together but once St. Pierre got hurt it fell apart.
Who would win? Some say GSP wins some say Silva would take the matchup. But the sticking point with both men is weight St. Pierre won't go to 185 and Silva won't come down to 170. A catchweight would be possible but Silva walks around at 200 pounds and would have a hard time getting down to 180 or less. St. Pierre could go up but it would be hard to be competitive unless he was walking around at the same weight as Silva because 'The Spyder' would be cutting while St. Pierre could eat a hot dog on the scale at the weigh-ins.
All fighters have made weight for ONE Fighting Championship™: War of the Lions. The torrential rain did not deter MMA fans who turned out in full force at Chevron House earlier today. The public not only got to meet and have their photos taken with the stunning ONE FC Ring Girls, they also witnessed the amazing lineup of elite MMA fighters from around Asia and the world at the official weigh-in event of ONE FC's second show in Singapore.
After a series of intense stare downs in front of a massive crowd in the heart of Singapore's Central Business District, Asia's largest mixed martial arts (MMA) organization is now full speed ahead for an epic showdown at the Singapore Indoor Stadium on 31 March 2012. The event will be headlined by a battle between Felipe Enomoto from Japan and Zorobabel Moreira from Brazil.
ONE Fighting Championship™: War of the Lions also features a treat for Japanese MMA fans with an impressive line-up of DREAM and DEEP Champions. Thanks to the ONE FC Network and the partnership with DREAM, tomorrow's fights will include phenomenal match-ups that feature DREAM superstar Tatsuya Kawajiri and DEEP Champions Masakazu Imanari, Yuya Shirai and Yoshiyuki Nakanishi.
A host of other international champions will also be featured in the event tomorrow. Melvin Manhoef, a K-1, DREAM and Strikeforce superstar from Holland, is one of the most feared strikers in the world. He will be facing DEEP Light Heavyweight Champion Yoshiyuki Nakanishi.
The most anticipated fights for Asian MMA fans would be the clash between Eduard Folayang and Ole Laursen, as well as the professional MMA debut of Singapore's first female professional MMA fighter Nicole Chua. Nicole Chua will be competing against 7-time National Kickboxing Champion Jeet Toshi from India.
Tickets for the show in Singapore are on sale via www.SISTIC.com.sg. MMA fans from anywhere in the world* can catch the action via live streaming free-of-charge on YouTube at http://www.youtube.com/ONEFCmma.
Live streaming commences:
8:00 PM – Kuala Lumpur
1:00 PM – London
8:00 AM – New York City
5:00 AM – San Francisco
FOR the fourth consecutive show, a Cage Warriors event will be headlined by an exciting heavyweight tussle.
Bobby 'Zombie' Brents will take on Chris 'Beast Boy' Barnett in an all-American main event at CWFC Fight Night 5 in Jordan on Thursday, April 12.
29-year-old Brents (12-2-0), who trains out of the MMA Clinic/Fiore MMA in Illinois, returns to action for the organisation following his superb first round submission of Bellator heavyweight Rogent Lloret at Cage Warriors 45 in London on February 18.
His opponent at the New Boxing Arena in Amman, Florida native Barnett (7-1-0), is one of the USA's top heavyweight prospects.
The 25-year-old's only professional loss came via decision against 3-0 Bellator star Eric Prindle in October 2010, but he bounced back to secure a second round TKO win against American Top Team's Mario Rinaldi, before defeating Walter Harris on a decision.
Both fighters will be eager to continue their progress in the heavyweight division in the hope of earning shot at CWFC heavyweight champion Mike '300' Hayes, who captured the title with a victory over Andreas Kraniotakes at CWFC Fight Night 4 in Dubai earlier this month.
Also confirmed for next month's main card at CWFC Fight Night 5 in Amman is a middleweight bout between Englishman Mike Ling (8-3-0) and France's Eric Cebarec (8-5-0).
Both fights will be broadcast live by MMAJunkie.com – along with Brum v Back, N'Doye v James, Hucin v Cheng and Fields v Phillips – from 7pm (UK) on Thursday, April 12.
Fans can also view three prelims live on the Cage Warriors Facebook page from 6pm (UK). Kicking off the action will be a light-heavyweight contest between Egypt's Mohamed Ali (4-3-0) and Doo Hwan Kim (3-0-0) of Korean Top Team.
Welshman Kris Edwards (6-3-0), one of Europe's top bantamweights, will make his Cage Warriors debut against Finland's Janne Elonen-Kulmala (4-2-0), and Kevin Donnelly (6-4-0) of Lion's Den in Exeter will clash with Poland's Piotr Hallman (8-1-0) in a lightweight bout.
Everything is set for another spectacular KSW event. On May 12th Lodz's Atlas Arena will hold KSW19 show! Real MMA fights, thirteen thousands in attendance and millions watching at home. The spectacle starring some of the best thoroughbred gladiators of the modern world.
The two headlining bouts will feature the two most recognizable MMA names in Poland. In his twelfth fight under KSW Federation banner the best European middleweight Mamed Khalidov will face yet to be announced opponent. In the second main event, former five-time World's Strongest Man Mariusz Pudzianowski will once again return to the KSW ring.
Szczecin-born Michał Materla will challenge for the vacant KSW Federation middleweight title against yet to be named foe. The popular "Cipao" currently trains in the USA in renowned American Kickboxing Academy with such famous fighters as Cain Velasquez, Jon Fitch or Daniel Cormier.
The May show will also feature the former two-time KSW tournament champion Antoni Chmielewski in his another middleweight clash as well as the number one ranked welterweight in Poland Aslambek Saidov.
For the first time in KSW Federation eight-year history, KSW 19 will have a female MMA fight. In her professional MMA debut former K-1 Rules world champion Marta Chojnoska will square off against veteran of five MMA fights Paulina Suska.
As Bellator Fighting Championships prepares to make its sixth trip to Connecticut, the fight card for Bellator 63 has been finalized and features a night of incredible finishers, including the start of Bellator's $100,000 Welterweight Tournament as well as preliminary action loaded with East Coast talent. Tickets for the event are on sale and are available through Ticketmaster.com or at the Mohegan Sun Box Office. Tickets are priced from $30-$70.
The event will broadcast LIVE starting at 8 p.m. EST on MTV2 and in commercial-free HD on EPIX. Doors open at 6:30 p.m. EST, with the first fight scheduled for 7 p.m. EST. The preliminary card, featuring the area's top local talent will be streamed LIVE and FREE around the world on Spike.com starting at 7 p.m. EST.
The night will feature the debut of American Top Team product and Danbury resident Marianna "The Crushen Russian" Kheyfets as she battles New Jersey native Munah Holland. Kheyfets brings a spotless 5-0 record into the cage, and will be looking to impress the Bellator brass in her debut.
"I'm incredibly excited to be fighting in such a big event so close to home," said Kheyfets. "This is a tremendous opportunity for me, and I can't wait to get into the cage on March 30th."
Two very familiar foes collide as Dan Cramer will return to the Bellator cage looking to avenge his last loss when he meets Jeff Nader in a middleweight showdown. The two last meet at Bellator 48 in a very memorable matchup, where Cramer controlled the pace a majority of the fight until Nader connected with a vicious combination that earned him victory:
Read the rest of this entry »